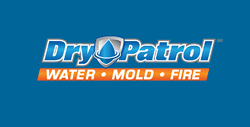 It's important for homeowners to be aware that a severe flood is not always the culprit for serious mold problems.
Cincinnati, OH (PRWEB) December 22, 2015
Cincinnati mold damage contractors, Dry Patrol of Cincinnati is a water disaster services company that helps homeowners and businesses successfully cleanup contaminated spaces impacted by flood, fire, and biohazard waste. The team works quickly in emergency situations with clients to both prevent and remove the toxic results of water damage. To help educate homeowners possibly facing issues with mold, the Cincinnati water restoration company has released four tips for safely dealing with mold.
Greg Emrick, owner of Dry Patrol of Cincinnati comments, "It's important for homeowners to be aware that a severe flood is not always the culprit for serious mold problems. Leaks, poor drainage, and a number of other issues can slowly but surely emit moisture that, when left to sit, will create a great deal of damage and health risks to those living in the home."
Identify any issues that seem to be causing unwarranted moisture including leaks and excess humidity. As temperatures fluctuate, mold can quickly develop in areas that have been ignored and cause serious health risks to residents in the home.
Because mold growth can be hidden or not visible immediately, be sure to smell for mildew in areas impacted by moisture. Mildew is a form of mold during early stages of development. To be certain, contact a professional to properly assess the area before mold has an opportunity to fully develop.
Do not disturb visible signs of mold without a professional. A professional mold remediation company has the tools, resources, and experience to safely clean out a contaminated area without risking the health of the home's residents.
Do not attempt to kill mold with bleach. Killing mold involves a special process that must be performed by a professional mold remediation company.
Greg Emrick adds, "Mold is a serious issue that many homeowners feel they can deal with on their own. To truly remove mold, it takes a qualified team with the right protection and skill to eliminate the toxic substance for the long-haul to prevent further damage to the home and keep the family safe."
For more information on how to properly clean up mold or deal with damage caused by an emergency water disasters, visit http://www.cincinnatiwatermolddamagerepair.com or call 513-874-9300.
About Dry Patrol of Cincinnati
Dry Patrol of Cincinnati provides effective and efficient solutions for water, storm, and flood damage, mold remediation, sewage cleanup, mold remediation, and biohazard cleanup for homeowners and businesses throughout the Cincinnati area. The Cincinnati flood damage contractors respond to emergency calls 24 hours a day, 365 days of the year.