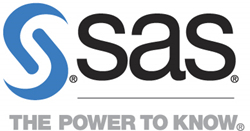 Our customers are demonstrating many ways to slay the big data dragon, said Karen Terrell, Vice President of Federal at SAS
Washington, D.C. (PRWEB) February 22, 2016
Recent SAS® software sales to the federal government indicate agencies are wielding a variety of advanced technologies to stay afloat on the rising tide of big data. The analytics leader expects the trend to continue in 2016.
The rate of data generated and collected daily has long since eclipsed humans' ability to analyze it, let alone make use of relevant information. So as they continue to confront challenges around collecting and storing data, many agencies are also grappling with how to extract meaningful insight from data at their disposal.
Agencies need a big data strategy, because the problem will only get worse. The EMC Digital Universe Study published in April 2014, with data and analysis by IDC, predicts the digital universe – the data we create and copy annually – will be 10 times larger in just four years. That projects to 44 zettabytes, or 44 trillion gigabytes.
"The massive rate of growth in the digital universe indeed poses a significant problem for federal agencies," said Alan Webber, Research Director for IDC Government Insights. "Faced with an immediate and growing problem, those that are late to adopt the innovations of their fellow agencies will soon find themselves falling behind."
Agencies taking the lead in effectively processing big data employ a blend of solutions including big data analytics, data visualization technologies, text mining capabilities and Hadoop.
The US Small Business Administration (SBA) Office of Disaster Assistance, for example, will use SAS Visual Analytics to help disaster victims reopen their businesses, rebuild their homes and recover from catastrophic events as quickly as possible. SAS Visual Analytics is an in-memory solution for exploring enormous amounts of data quickly. Through a contract with TrueNorth and Hamilton Enterprises, SBA will analyze historical loan application and performance data to get funds to individuals and businesses as efficiently as possible in their time of need.
Department of Defense customers licensed SAS Visual Analytics and SAS Grid Manager to process massive amounts of data to improve logistics, inventory decisions and the forecasting of maintenance requirements.
Large amounts of unstructured data is the challenge for the US Consumer Product Safety Commission. SAS Contextual Analysis will speed processing and provide deeper analytics for the agency's epidemiological research.
"Our customers are demonstrating many ways to slay the big data dragon," said Karen Terrell, Vice President of Federal at SAS. "The challenge of gleaning insights from data-deluged government systems is clearly not going away. Forward-thinking agencies are attacking the challenge with data processing, analytics, open source and data visualization in powerful combinations tailored to their needs. These approaches will be increasingly adopted within federal agencies in 2016 and beyond."
SAS has provided innovative solutions targeting the unique analytics needs of the federal government for nearly four decades and is widely used throughout the federal workplace, including civilian agencies, the Department of Defense and the intelligence community.
About SAS
SAS is the leader in analytics. Through innovative analytics, business intelligence and data management software and services, SAS helps customers at more than 80,000 sites make better decisions faster. Since 1976, SAS has been giving customers around the world THE POWER TO KNOW®.
SAS and all other SAS Institute Inc. product or service names are registered trademarks or trademarks of SAS Institute Inc. in the USA and other countries. ® indicates USA registration. Other brand and product names are trademarks of their respective companies. Copyright © 2016 SAS Institute Inc. All rights reserved.