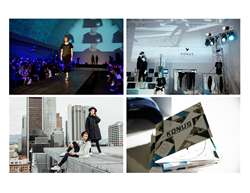 "We believe in embracing modern culture while still maintaining our commitment to both quality and tradition" Billy Kang - CEO
Los Angeles, California (PRWEB) December 24, 2015
Robin K Clothing has unveiled their new line of apparel for 2015-2016 on Konusbrand.com.
"We are excited to finally reveal our latest collection to the public," says Billy Kang, CEO of Robin K, "Our team has been working diligently on the release, and it's wonderful seeing the reaction of both industry and streetwear lovers alike."
Launched in Los Angeles on June 4th 2015, The Konus 'Elevated Street' Lifestyle Brand has made a name for itself as high-functioning luxury apparel. "We believe in embracing modern culture while still maintaining our commitment to both quality and tradition," Kang continued. "It is through these beliefs that every Konus garment is crafted, and our vision is an extension of that concept." Konus launched in Asia 2 months later on August 27th , and is currently planning to open up more apparel category lines, including shoes, bags, and fashion accessories.
Originally founded in Los Angeles, The Global brand Robin K Inc expanded to North America in 2014, and has since gained interest in South American and European markets. Ever evolving, the company has taken the growth in stride, announcing a bold business strategy for 2016. The Konus brand has been increasing awareness domestically. The collections have been a visible staple at fashion shows since inception, turning heads with unique urban-influenced designs and highly stylized lookbooks.
The entire collection is available for purchase now on http://www.KonusBrand.com.