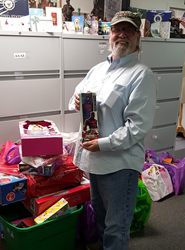 Toms River, NJ (PRWEB) December 24, 2015
As our country and our veterans are struggling with many issues at the close of 2015, it is the duty of those of us who are able to provide support to do so when friends and neighbors need it most.
To this end, the GI Go Fund lent a helping hand to hundreds of America's veterans who are struggling the most by distributing thousands in gift cards, as well as toys donated by the St. Mary's Coptic Orthodox Church, during the Thanksgiving and Christmas season. Each Visa gift card could be used by veterans use towards the purchase of food, clothing, and toys for their families.
"The true meaning of the holidays is to offer a helping hand to those in need, especially those who have had our backs" said GI Go Executive Director Jack Fanous. "These men and women have risked it all, and now it is our turn to have their backs. Many veteran families are struggling, with many not being able to afford to provide for themselves during the holidays. We just hope that through the work of our staff, volunteers, and supporters that we can give all of our veterans the holidays that they deserve."
The organization was able to distribute these cards to needy families thanks in large part to the record-breaking Jeans For Troops fundraising drive during Veterans Day 2015. The nationwide movement featured employees at thousands of companies and schools joining the millions of people who have already supported the GI Go Fund by donating $5 and wearing Jeans to work to honor our military veterans. The fundraising drive has spread coast to coast, with nearly ten thousand companies and schools having joined the cause to support our military veterans.
In addition to the funds distributed this holiday season, the organization is planning on handing out thousands more in aid to veteran families in the coming year.
The GI Go Fund is an organization on the cutting edge of offering support to veterans, providing veterans with innovative ways of finding employment, securing their educational and health benefits, as well as providing aid and assistance to low income and homeless veterans. Since their founding, the organization has helped tens of thousands of veterans improve their lives and give them the capacity to provide and care for their loved ones. For more information, visit http://www.gigofund.org.