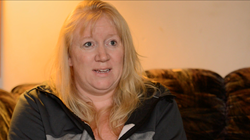 In recovery from addiction, we learn the importance of gratitude and of giving to others
Marne, Michigan (PRWEB) December 24, 2015
With the Season of Giving in full swing and the Christmas Holiday just days away, many families are busy wrapping presents and preparing their Christmas feast. Sadly, not all have the good fortune to be able to provide that Holiday Cheer. In the Spirit of the Season, Serenity Point Recovery, a residential holistic treatment center for substance abuse that is located in Marne, MI, decided to share some Christmas Joy with two local families that have been having an especially tough year. On Monday, December 14th, staff members from Serenity Point visited the homes of these families with armfuls of presents
and hearts full of compassion.
"In recovery from addiction, we learn the importance of gratitude and of giving to others," commented Serenity Point founder Per Wickstrom. "The holiday season is the perfect time to show our care for the residents of the community that we call home. We wanted to share some of the happiness, peace, and hope that we find daily at our treatment center. There is nothing greater in this world than kindness, and we could all use a little more of that in our lives. We would like to wish everybody Happy Holidays."
The families that the staff members of Serenity Point visited are also residents of Marne, located just outside of Grand Rapids, MI. The mothers of each of these families sat down and explained the situation in interviews that day, expressing gratitude for the assistance provided by the treatment facility. These interviews are composed into a short video that
is available for viewing on the Serenity Point YouTube channel.
Case Manager Britini, one of the Serenity Point staff members that helped deliver the donations that day, is also featured on the highlight video. She explains a little about what drove her and the other facility employees to extend their helping hands to these families in need, saying "Today, we got to go and deliver Christmas presents that we bought for a couple families in town that have been going through some tough stuff.
"Melany's family, one of the two recipients of the Serenity Point staff's goodwill, has been struggling since November, when she suffered a heart attack and could not return to work. Unsure of how they are going to continue, or even where to turn for help, the extra assistance really made a difference to her. "I would like to thank Serenity for everything that they've done this holiday season," she says. "I very much appreciate it.
"Alishia's family was met with sudden tragedy earlier this year at the unexpected passing of her eldest son, who was not yet 15 years old. With funeral costs and burial expenses, they have struggled ever since, and the Christmas Season looked very bleak. "Serenity is contributing to my kids' Christmas as well as groceries," she shares. "It's helping give my kids a Christmas that they wouldn't otherwise have, because I really didn't know what I was going to do.
"Serenity Point Recovery often helps out in their local community and beyond. The patients and staff can often be found volunteering their time at the local food pantry or participating in fundraisers for organizations like Mothers Against Drunk Driving, among many other efforts. For more information, visit their website at http://www.serenityrehab.org or see the video: https://www.youtube.com/watch?v=C-qkTa1N_Rg