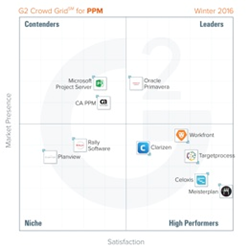 CHICAGO, IL (PRWEB) December 28, 2015
G2 Crowd, the world's leading business software review platform, today released the Winter 2016 Project Portfolio Management (PPM) Software GridSM report to help businesses make the best technology decision. Oracle Primavera was named the only Leader in the report, receiving a strong customer satisfaction score with a large market presence. Additionally, Workfront, Targetprocess, Celoxis, Meisterplan and Clarizen were named High Performers, receiving strong customer satisfaction scores with a smaller market presence. Meisterplan earned the highest overall Satisfaction score while Oracle Primavera and Microsoft Project Server earned the highest overall Market Presence scores.
The GridSM leverages customer satisfaction data reported by authenticated users along with vendor market presence determined from social and public data. Based on a combination of these scores, each software solution is categorized as Leader, High Performer, Contender, or Niche.
Key Findings:
Project Portfolio Management (PPM) systems are used to plan project schedules and allocate resources. For organizations with many simultaneous projects and a rotating staff, PPM software ensures projects are appropriately staffed, on budget, and on time. PPM systems are also used to forecast future project and staffing needs, determine ROI for project commitments, and manage potential risk.
Overall, users felt very satisfied with their PPM products as no product features scored less than 75 percent. The highest-rated product features included task creation and assignment, portfolio coordination, time tracking, and performance and reliability, all of which earned an 86 percent satisfaction score. The main business problem users were solving with their PPM solution was visibility into how resources are being allocated. Other PPM product features such as forecasting, risk analysis, and financial management were less important, and products were rated lower for those features on average.
PPM and project management (PM) products had generally similar ratings except for a few notable exceptions. For example, PPM products tend to be more customizable with better reporting integrations, but they were often more difficult to setup and to use.
About the PPM GridSM report:
● The report is based on more than 140 reviews written by business professionals.
● Of the roughly 160 products listed in G2 Crowd's PPM category, the ranked products each received 10 or more reviews to qualify for inclusion on the GridSM.
_______________
About G2 Crowd, Inc.
G2 Crowd, the world's leading business software review platform, leverages its 44,000-plus user reviews to drive better purchasing decisions. Technology buyers, investors, and analysts use the site to compare and select the best software based on peer reviews and synthesized social data. Co-founded by the founder and former executives from SaaS leader BigMachines and backed by roughly $12 million in capital, G2 Crowd aims to bring authenticity and transparency to business technology research. For more information, go to G2Crowd.com.
Follow us on Twitter or connect with us on Facebook or LinkedIn.
PR Contact:
Shasta Smith
G2 Crowd
shasta.smith(at)blancandotus(dot)com
(415) 856-5123