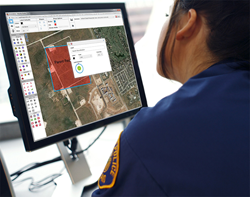 Rapid Responder is designed to specifically assist police and fire personnel as they respond to critical incidents in schools, offices, and churches in our communities
Crookston, Minn. (PRWEB) December 29, 2015
Polk County Sheriff Barb Erdman took the lead in supporting the expansion of the emergency preparedness and response system, Rapid Responder®, in Minnesota by hosting an information event in her county. Sponsored by Kirkland, Wash.-based Prepared Response, Inc., the event included attendees from a variety of industries including first responding agencies, schools, businesses, and health care centers. During the December 17th event, attendees were presented with an in-person demonstration of Rapid Responder and use case scenarios.
Rapid Responder is an all-hazards crisis management system that helps facilitate the gathering of critical emergency preparedness and response information needed to effectively plan, prepare, respond, and recover from any type of crisis. The system provides facility management and first responders instant access to site-specific emergency response information, and can be accessed via the Internet, installed on a laptop, and stored encrypted on a USB drive, or through the iPad and Android app.
Sheriff Erdman hosted the informational event to ensure everyone in her county has the opportunity to learn about the Rapid Responder technology. "Community safety is of the utmost importance and if we have one system that all schools, hospitals, and other facilities are using, our responders will be able to quickly access congruent, accurate and detailed information in the event of an emergency," says Erdman.
Jeff Hicks, National Account Executive with Prepared Response, explained how Rapid Responder "facilitates the gathering, organizing, and distributing of emergency preparedness and emergency response information, ensuring a quick and coordinated response to any emergency." He walked attendees through the system, including the integrated NIMS based Incident Command System and a new communication and alerting tool, Easy Alert.
"Rapid Responder is designed to specifically assist police and fire personnel as they respond to critical incidents in schools, offices, and churches in our communities," says James Franklin, Executive Director of the Minnesota Sheriffs' Association. "I look forward to continuing to see the system expand throughout Minnesota, helping responding agencies to handle emergencies quickly and cohesively."
When facilities implement Rapid Responder, they will have instant, secure access to over 380 data points of critical response information including site and floor plans, imagery, utility shut-off information and locations, tactical response plans, and the ability to connect IP cameras. By having a county-wide system, responders are able to source information from one location, enabling them to better plan, prepare and respond in a time when seconds count.
Rapid Responder is SAFETY Act Certified by the U.S. Department of Homeland Security as "Qualified Anti-Terrorism Technology," and endorsed by the National Sheriffs' Association. The system has been used successfully during a campus shooting, bomb threats, lock downs, and other emergency situations on school campuses and other sites across the country. The system has been deployed in 27 states across the nation, more than any other system of its kind. Prepared Response has also provided on-site professional services to more than 16,000 facilities, including K-12 and higher education campuses, hospitals, churches, government agencies, and others throughout the United States.
MEDIA CONTACT
FOR FURTHER INFORMATION, PLEASE CONTACT:
Lindsay Stanford
lstanford(at)preparedresponse(dot)com
253.299.2596
About Prepared Response, Inc.
Prepared Response Inc., is the leading innovator of emergency preparedness and crisis management solutions in the nation. For over a decade, Prepared Response has provided industry leading technology and consulting services that have been proven to save lives and mitigate property damage. The company's flagship product, Rapid Responder, is used by over 1,300 public safety agencies nationwide and is SAFETY Act Certified by the U.S. Department of Homeland Security as a Qualified Anti-Terrorism Technology, along with being endorsed by the National Sheriffs' Association.
The privately held company is headquartered in Kirkland, Washington. Additional information can be found at http://www.preparedresponse.com or by calling 1-866-862-7741.
©2015 Prepared Response, Inc.®