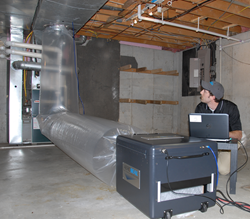 New DOE technology offers increased home comfort and energy savings this winter
Centerville, OH (PRWEB) December 30, 2015
With another cold winter season upon us, many local homeowners, now for the first time, have access to a new home energy savings technology developed by the U.S. Department of Energy. Called aeroseal, the technology is a first-of-its-kind solution to home duct leakage, a problem many experts point to as the single biggest cause of home energy waste and chronic cold room syndrome.
"The overwhelming majority of homeowners in the U.S. today lose 20% to 30% or more of the air they heat through leaks in their ductwork," said Dr. Mark Modera, professor at the University of California, Davis and inventor of aeroseal technology. "Since most ductwork is hidden behind walls or other hard-to-access locations, traditional sealing methods have never been very effective. This new technology's innovative approach to duct sealing makes it 95% effective at sealing all the leaks."
Aeroseal technology works by sealing duct leaks from the inside of the duct system. Applied as an aerosol mist, the non-toxic spray travels throughout the interior of the ductwork attaching itself to the edge of the leaks, then bonding to other sealant particles until the hole is completely sealed. This inside-out approach allows the aeroseal process to quickly and effectively find and seal leaks throughout the entire duct system. As a result, aerosealing ducts has proven to have a significant impact on lowering monthly energy bills and increasing indoor comfort.
"Aeroseal technology can reduce monthly energy bills by 30% or more, said Modera. "It can also greatly improve the comfort of your home. If you have rooms that never seem to get enough heat during the winter, chances are good that the problem is caused by duct leaks that divert heated air away from its intended destination. By sealing those leaks, you help ensure you get proper heat to all the rooms in the house."
First created at Lawrence Berkeley National Laboratory in 1995, aeroseal technology was introduced to the market in 1999. With the recent establishment of trained and licensed aeroseal technology dealers in this area, many local homeowners have access to the technology for the first time this winter.
For a link to b-roll footage of aeroseal technology including interviews with the U.S. Department of Energy and animation of the technology, visit http://www.aeroseal.com/winter-2015-broll/.
To contact a local Aeroseal service provider or a local homeowner who has had his/her home duct system aerosealed, contact Brad Brenner at (503) 736-0610. For general information about aeroseal technology visit http://www.aeroseal.com.