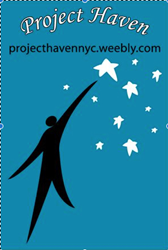 Enhancing the mind, body, and soul...
New York (PRWEB) February 05, 2015
Project Haven and BCC of The City University of New York have agreed to collaborate, with the objective of providing after-school programs in the Community the Bronx. This partnership could not have come at a better time. Now more than ever Project Haven can use the public's support to keep children engaged, safe and away from crime and drugs in our community. Donors, teachers, parents, and students all agree there is an unmet need for after-school activities in this area, where a large number of children live in abject poverty. The lack of these facilities result in many of our at risk youth being left alone after school, with many being exposed to the streets and the antisocial behaviors this can bring about. Project Haven aims to provide a "safe haven" for those children whose parents cannot afford the high and escalating costs of after-school programs and teaches them a variety of activities that promotes social inclusion by encouraging responsibility, discipline, self-esteem, self-respect and mutual respect for adults and people of other cultures.
Project Haven was conceived by founders Ian Wright, Rafael Jimenez and Zulma Torres, three teachers from a Bronx middle school. These teachers saw first hand the destructive results of what happens to children when they do not have access to quality after-school facilities, and are left to fend for themselves on the streets. In 2000, the principle at the middle school where they taught made several rooms available for after-school activities led by the teachers. Over the next eight years, activities such as chess, Latin percussion and dance were carried out with the materials and tuition being provided directly by the founders.
The activities have been extended over the years, adding to the original activities now include a program of martial arts and a summer camping trip, and if funding is raised we will incorporate technology tutorials, take international culturally enriched excursions to other countries to introduce first hand expose the children of our to the world, and develop other sports programs.
The Community served by Project Haven is primarily the children in the Bronx area whose parents cannot afford the ever-increasing costs of after school provision. Many of the parents work in minimum wage positions and are left with little choice but to leave their children at home or out on the streets until they return from work. These children are then subjected to inappropriate actions including crime, promiscuity, and other drug and alcohol related issues.
Hours of the day being subjected to inappropriate behavior including crime, violence, drugs and promiscuity has an overarching impact on the future of these children, and without the intervention of programs such as this, the whole community is affected including both current and future generations. This cycle must stop and children should be offered a "safe haven" where they can learn how to become valuable members of the community, and learn life changing skills and qualities
The program aims to serve all school age children in need; however it is recognized that targeting middle schoolers before they have had the chance to become embedded in the negative and harmful effects that being on the streets can cause, will provide sustainable benefits to not only the children's wellbeing, emotional and physical development but also to the community in which they live.
To contribute to the cause, please visit the IndieGogo campaign.
About Project Haven
Project Haven's mission is to provide a "safe haven" for at-risk youth away from the dangers of crime and gang violence, by teaching essential culturally enriched life skills that promote social inclusion, youth empowerment and community spirit.
Our programs offer children an opportunity to develop self-confidence, self worth, physical fitness addressing the obesity crisis in our country, cultural awareness through travel and self-discipline.
In addition, our activities delivers positive youth development and practice in fitness and nutrition. Our style of martial arts taught infuses self-defense with the application of fitness and nutrition with the intention of bringing forward ones true potential in any endeavor such as school, home life and self-identity.
It is the founders belief that the qualities taught to disadvantaged children will enable a child to make life changing decisions regarding their future and that they will go on to become valuable members of the community in which they live, at some point in the future giving back into that community and passing on the qualities they have learned onto future generations.