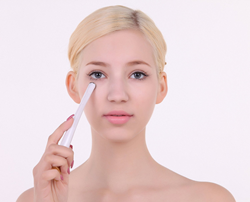 These sonic-infusion devices are currently available at no extra cost, with complementary skin care treatments available from Swiss-Ultimate Labs.
Miami, FL (PRWEB) June 02, 2015
While some Americans ages 35+ may be unknowingly applying their favorite anti-wrinkle cream, serum or facial cosmetic treatment in a less-than-effective way, and suffering from increased appearance of wrinkles, many are enjoying the results they deserve. This is largely because they understand that for cosmetic treatments to be truly effective, ingredients may have to reach below the skin's tough, outer layer of skin (known as the epidermis).
That's the opinion of Roger Hall, developer of cosmetic treatments for Swiss Ultimate Labs, the company responsible for bringing this new, sonic-infusion technology and related devices to the USA in a way that's very inexpensive to the consumer.
"Women and men ages 35+ need information on high-tech, inexpensive cosmetic treatments with scientific principles behind their design; what works to reduce the appearance of wrinkles, and what doesn't," says Roger Hall, of Swiss Ultimate Labs. "As a cosmetic treatment specialist & developer I have hundreds of people contacting me, asking questions such as:

How can a woman or man ages 35+ reduce the appearance of wrinkles, particularly around the eyes?
Which cosmetic wrinkle treatments may be most effective for a particular person's skin-type?"
Swiss Ultimate Labs sought USA registration of these inexpensive sonic-infusion devices, together with manufacturing partners. Swiss Ultimate Labs were successful, registering the devices in early 2015 (using the established FDA process for cosmetic devices - Reg #D233185). "Now, we are in a position to assist folks in the USA achieve the goal of delivering the anti-wrinkle cosmetic results they desire, in a new and inexpensive way," said Hall.
According to Hall, what makes Swiss Ultimate-branded sonic-infusion treatments different is this: "These systems were designed with the goal of using established scientific principles and ideas. Each of the methods we use toward the goal of reducing the appearance of wrinkles has been tested (the company uses no animal testing at all). What's more, our devices have been developed using what we believe are proven elements of research in the field of cosmetic dermatology."
Unlike many of today's cosmetic treatments, Hall points out, sonic-infusion devices from Swiss Ultimate Labs are currently available at zero extra cost with complementary skin care treatments available from the company. "A lot of women and men can't afford expensive dermatologists or cosmetic surgeons. And it takes time and money to discover the right combination of treatments for your particular age and skin-type," notes Hall. "These new sonic-infusion devices, using ultrasonic-therapy and ionic-flow technology, have been created for them. In conjunction with the right cosmetic eye cream or serum, we have found It takes only 30 seconds of use under each eye, morning and night, for sonic-infusion treatments to show a noticeable reduction in the appearance of fine lines and crows-feet around the eyes, over 30-45 days."
The sonic-infusion device giveaway from Swiss Ultimate Labs is available now on Amazon.com by searching on Amazon for "Swiss Ultimate Labs." More details regarding the technology behind the devices is available on the here: http://livingdaily.org/news/eye-appearance.
Swiss-Ultimate sonic infusion cosmetic devices are available to all women and men, ages 35 plus, 24 hours a day, seven days a week.