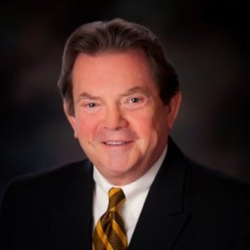 We are pleased to be able to establish this scholarship in his memory and honor so that his legacy in West Georgia will live on and he will continue to positively impact our students and our community through his scholarship. - Tee Green
CARROLLTON, Ga. (PRWEB) August 28, 2015
Friends of late businessman and pillar of the West Georgia community James Alfred "Al" Cochran recently established a scholarship in his memory. The James Alfred "Al" Cochran Rising Star Scholarship will provide financial support for University of West Georgia students who are majoring in accounting.
"Al was a big part of the Greenway family. He, Tee and Brad guided us through the IPO process," said William "Bill" Esslinger Jr. "He had a huge impact, not only on Greenway, but on our entire West Georgia community."
Bill and Debbie Esslinger, along with W. Thomas "Tee" Green III, Greg Schulenburg, Brad Tuggle and Scott Kauffman generously established the scholarship fund to honor the memory of Cochran and to support students in the area of business. Bill Esslinger is the Chief Executive Officer of Fogo Data Centers and Founder and Principal of Esslinger Tech Law, LLC. Esslinger previously served as vice president, general counsel & secretary at Greenway Medical Technologies, Inc, for nearly 14 years before its sale to Vista Equity Partners. Deborah I. Esslinger, formerly the vice president of product management at Greenway Medical Technologies, Inc, is the president of Esslinger Tech Law, LLC. Tee Green is the chief executive officer of Greenway Health, LLC, formerly Greenway Medical Technologies, Inc. Greg Schulenburg is the chief operating officer of Greenway Health, LLC. Brad Tuggle, formerly the vice president of finance at Greenway Medical Technologies, Inc., is a vice president at Southwire Company, LLC. Scott Kauffman, formerly the controller at Greenway Medical Technologies, Inc., is the controller at RA-LIN and Associates, Inc.
Cochran was born on Aug 28, 1947, to Seaborn and Pauline Cochran, of Lilburn, Ga., and was raised with his two younger brothers, Richard and Anthony. He married Gloria Sells Cochran and raised two daughters, Alecia Cochran Mokros and Ali Cochran Morgan. He was blessed with four grandchildren, Madison and Miller Mokros, and Caleigh and Evie Morgan.
Cochran's departure was felt both personally and professionally in the many lives he touched in the metro Atlanta business community. Recipient of the Atlanta Business Chronicle's CFO of the Year in 2012, his influence and business acumen lead him into boardrooms and leadership positions for companies like Turbochef, Greenway Medical, Amendia, and Vivex Biomedical.
A committee within the Richards College of Business will award the scholarship annually to a student with demonstrated promise in accounting.
"As his friends and former colleagues, we are pleased to be able to establish this scholarship in his memory and honor so that his legacy in West Georgia will live on and he will continue to positively impact our students and our community through his scholarship," Green said.
"Al was more than just a colleague. He was a friend and a mentor. His experience and interests were broad and his work ethic and quality were exceptional. He came to be known in Greenway circles as 'the world's most interesting man.' We can never replace him, but we are pleased to take this small step so that his legacy will remain in perpetuity," Esslinger said.
To contribute to the James Alfred "Al" Cochran Rising Star Scholarship, please go to http://www.giving.westga.edu.
###
The University of West Georgia is the land of opportunity for approximately over 12,600 undergraduate and graduate students in 86 fields of study. The university is known for its innovative approach to scholarly achievement, creative expression, and service to humanity. It is recognized by U.S. News & World Report magazine as the #47 public university in the South.
Founded in Carrollton, Ga., in 1906, UWG also offers classes at its Newnan and Douglasville centers and online. For more information, please visit westga.edu.