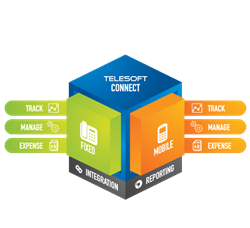 Phoenix, AZ (PRWEB) February 04, 2015
What: Telesoft, trusted experts fixed and mobile telecom management software and services, will have an exhibit space in booth I at the AOTMP Fixed and Mobile Telecom Management Conference.
Who: Telesoft offers responsive, flexible fixed and mobile telecom management solutions and services that are built by Telesoft from the ground up, offering superior integration, visibility, and performance. These solutions and services are built on our fully integrated Purpose-Driven Platform to form Telesoft Connect, helping organizations manage fixed and mobile telecommunication, IT inventory, assets, usage, and expenses through a single interface.
Why: AOTMP is an information services company focused on establishing and maintaining high-performance, best-in-class fixed and mobile telecom environments. At this year's event, attendees network with peers, industry leaders, and AOTMP experts while exploring the Latest Telecom Management Solutions and taking part in interactive sessions centered around the greatest challenges in managing fixed and mobile telecom environments.
When: February 16 – 18, 2015
Where: Hyatt Regency Orlando International Airport, 9300 Jeff Fuqua Blvd, Orlando, Florida 32827. Solutions Showcase, Booth I.