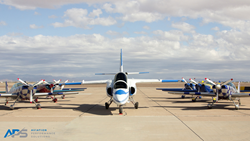 When a flight department requires the most effective jet upset training available, yet needs to get the most out of their training budget, APS delivers both.
Las Vegas, Nevada (PRWEB) November 17, 2015
Aviation Performance Solutions LLC (APS), an Arizona-based flight training organization, announced today at the National Business Aviation Association (NBAA) 2015 business aviation convention, the addition of the SIAI-Marchetti S211 sweptwing jet to their fleet of Upset Prevention and Recovery Training (UPRT) platforms. The all-attitude Marchetti S211 integrated with APS' powerful lineup of industry-leading UPRT solutions provides pilots and flight departments even more ability to target high performance Loss of Control In-flight (LOC-I) training solutions to meet their training needs.
According to a report issued by the Commercial Aviation Safety Team in August 2015, Loss of Control In-flight (LOC-I) is the leading cause of fatalities in commercial aviation worldwide. Effectively implemented UPRT dramatically and comprehensively reduces the risk of LOC-I. The S211 joins the APS stable of Extra 300Ls, Slingsbys, multi-engine business jet and transport category advanced simulators, and the A4 Skyhawk high altitude/mach upset trainer. The APS Marchetti S211 has been designed with the modern business jet cockpit in mind to include: front and back Garmin glass cockpit, multi-axis autopilot, digital and selectable angle of attack integration, fully hooded jet upset instrument recovery, HD audio/video recording, in-flight-selectable control feel options and other UPRT-focused training features.
"When a flight department requires the most effective jet upset training available, yet needs to get the most out of their training budget, APS delivers both," said Paul Ransbury, president of APS. "The flight-deck technology integration and transferrable jet performance handling characteristics of the SIAI-Marchetti S211 far exceed the capabilities and value of other jet upset training platforms in its class". More at apstraining.com/s211/
ABOUT AVIATION PERFORMANCE SOLUTIONS
Aviation Performance Solutions LLC (APS), headquartered at the Phoenix-Mesa Gateway Airport in Mesa, Arizona USA, trains thousands of professional pilots and instructors in comprehensive upset prevention and recovery training skill development. APS, an IS-BAO registered company, provides integrated LOC-I solutions via industry-leading app-based, on-aircraft (jet and piston), and full-flight simulator upset prevention & recovery training. All training is in full compliance with the Airplane Upset Recovery Training Aid – Revision 2, FAA Advisory Circular 120-109 on Stall and Stick Pusher Training, ICAO Manual on Aeroplane Upset Prevention and Recovery Training and the FAA Advisory Circular 120-111 on Upset Prevention and Recovery Training. APS is the only Part 141 Flight School certified in the delivery of complete upset prevention & recovery, stall/spin and instrument upset recovery training courses worldwide. With additional training locations in Dallas (Texas, USA), The Netherlands (Europe) and the Middle East (Riyadh, Saudi Arabia), APS provides global access to the highest quality and most effective upset prevention and recovery training available. http://www.apstraining.com