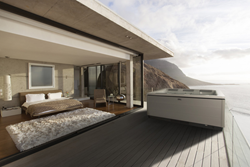 (PRWEB) May 05, 2015
Bullfrog Spas®, Utah-based manufacturer of innovative portable hot tubs, has been honored with the 2015 Best of State® Award for the Pools & Spas category. This is the 12th time Bullfrog Spas has won the award for best hot tubs or pools since 2003. The Best of State award will be presented at the Best of State Gala on May 9, 2015.
The Best of State Organization is a Utah-based business recognition program with the goal of honoring the best organizations, individuals and companies in Utah based on the following criteria:

The overall excellence, superiority and quality of a nominee's products, services or performance.
The creativity which nominees display to differentiate themselves from their competition.
The nominee's accomplishments to improve the quality of life in their community and state, and their efforts to make the world a better place.
Bullfrog Spas is currently recognized around the world for leading hot tub design, along with an emphasis on quality and reliability in product and sound business practices.
Bullfrog Spas continues to outpace the hot tub and spa industry in terms of growth with a focus on continual innovation and an adherence to strict quality measures. Bullfrog Spas' most recent accomplishments include:
2015 launch of STIL, a modern hot tub design
STIL awarded the prestigious iF Design Award for excellence in industrial and product design
Bullfrog Spas continue to be made in the USA with an emphasis on quality and reliability
Bullfrog Spas continue to rate best in class in energy efficiency according to data compiled by the California Energy Commission
Bullfrog Spas, including the new STIL modern hot tub, are manufactured at a state-of-the-art facility in Bluffdale, Utah and sold through Utah factory retail outlets and independent Bullfrog Spas Authorized Dealers and Distributors around the world.
About Bullfrog Spas
Bullfrog International LC began in 1996, engineering quality portable hot tubs with patented JetPak Technology. JetPaks are modular jetted spa seats that can be interchanged at any time. Bullfrog's current ultra-efficient JetPak Therapy System is a re-engineered hi-tech version of the original JetPak concept. Bullfrog International, is headquartered in the Salt Lake City, Utah metro area and currently distributes, licenses, and retails its products in the United States, Canada, Australia, New Zealand, South America, Asia, and Europe. Bullfrog Spas and the JetPak Therapy System are protected by numerous US and international patents.
Press inquiries may be directed to Bullfrog Spas at 801.565.8111. Bullfrog executives are available for interview.