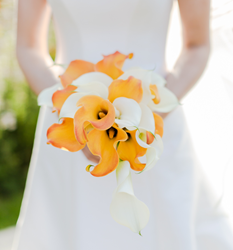 London, GB (PRWEB UK) 28 June 2015
With summer comes warm temperatures, plenty of sunshine and array of beautiful brightly coloured flowers. Summer's kaleidoscope of vibrant flowers provides ample colour schemes and wedding flowers for brides to choose from. London events florist Todich Floral Design unveils its latest summer wedding trends for 2015, an exquisite range of bridal flowers collated using a range of fresh seasonal flowers.
This summer, award winning wedding florist Todich Floral Design suggests six exquisite on-trend wedding flower arrangements for summer weddings
2015.
Key trends set to take pride of place at weddings this summer, include English country garden, from traditional classic white bouquets to pastel arrangements and cascading waterfall bouquets, wedding flowers will take on a more natural form with plenty of texture, colour and size. For a wild garden feel, cascading flower bouquets provide a unique country feel to summer weddings, adding plenty of texture, character and a beautiful scent to wedding bouquets.
With summer favourites in bloom this season, peonies, hydrangeas, dahlias, roses and beyond, it's no surprise that summer wedding bridal bouquets are some of the most spectacular of them all.
Daliahs: Dahlias are beautiful summer flowers that are full figured in the form and with doubled petals that come in a variety of warm vibrant colours. These spectacular blooms make great bridal flowers, as they add volume and glamour to wedding flower arrangements. If you're looking for a traditional look, reach for all white dahlias for a modern twist. White daliahs add sophistication and elegance to wedding flower bouquets.
Hydrangeas: Hydrangeas' full form and an array of rich shades make them exquisite bridal bouquets. They look spectacular in single shades and dazzle just as much in a combination of colours, adding romance and glamour to wedding flowers.
Carnations: Carnations' full figured form and spectrum of radiant shades, inject plenty of colour to bridal bouquets. A favourite summer flower for its radiant shades and different colour meanings, carnations are great for adding drama to wedding flowers.
Peonies: Peonies' are beautiful summer flowers and its large full-figured form and rich colours make them spectacular wedding flowers. For a touch of romance, opt for pastel shades in soft pink, peach, white and coral. Peonies pale pink hues mix well with other flowers to complete a striking garden wedding. For a twist on a traditional bouquet, reach for single shades of white peonies for romantic and sophisticated wedding flower bouquets.
Roses: Roses' elegant form and its array of striking shades add romance and sophistication to any occasion. Look beyond the traditional white rose; pastel shades of soft pink and coral roses look spectacular when matched with peach and bold pink peonies to create a beautiful soft and feminine bouquet that pops.
Gerbera: Gerberas are beautiful flowers that come in an array of sunny shades and make great bridal wedding flowers. Gerberas are extremely versatile plants with an added vibrancy to wedding flower arrangements. For a feminine look, match soft pink Gerberas with pink roses, daises and foliage.