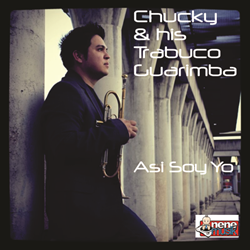 Port Saint Lucie, FL (PRWEB) September 15, 2015
Nene Musik Productions is proud to announce its first full length Salsa album "Asi Soy Yo" from Salsa sensation; Chucky & His Trabuco Guarimba. "Asi Soy Yo" features nine soon to be chart topping singles featuring some of today's top musicians including: Oscar Cordero"Chucky" (Arrangements, Production, Backing Vocals and Lead Trumpet), Marc Bischoff (Piano), Samuel Ruiz (Baby Bass), Marco Toro (Timbal & Minor Percussion (Güiro, Güira & Maracas), Gerardo Rosales ( Congas & Minor Percussion, Maracas), JC "Bulú" Viloria (Bongo & Bell), Alex Rodriguez Cala (Second Trumpet), Jose León"El Peruano" (Trombone), Johan Escalante (First Trombone), Adrian Corredor (Second Trombone), Elvin "Vivencias" Castillo (Lead Vocal and Backing vocals).
With Special Invited Guests from New York - Raul Agraz (Trumpet), from Miami - Mauricio Silva (Trombone) and vocalist from Venezuela Marcial Istúriz, Wilmer Lozano, Orlando Watussi and Irvin Manuel.
Album Track Listing:
01. Así Soy Yo
02. Bembé Con Iré
03. Gozalo! Se Que Te Va A Gustar
04. Guaguanco De Los Violentos
05. La Tierra Tiembla
06. El Adios De Este Momento
07. El Silencio Se Acabo
08. Con Los Rumberos De Ayer
09. La Igualdad
Available for download on itunes: https://itunes.apple.com/us/album/asi-soy-yo/id1033967198
About Nene Musik Productions, Llc.:
Nene Musik Productions, Llc. (http://www.nenemusik.com) was established in 1989. Today, It is a boutique Artist Management and Consulting Agency that services Recording Artists, International DJ's and Celebrities. Dennis Rodman, Cascada, Ian Van Dahl, Lasgo, Tune~Adik's Dom Tufaro, Mike Licata Jr. & Vic Latino are just of few on Nene Musik's client roster. Nene Musik's experience and commitment to excellence have earned them the reputation as one of the best Artist Management / Consulting companies in the World.
For Interviews contact: 01.772.807.8305 or promo(at)nenemusik(dot)com