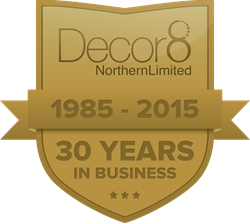 Our new store will enable current and new customers to obtain the full range of decorators' essentials at highly competitive Internet prices and with next day delivery.
Bury, Greater Manchester (PRWEB UK) 6 February 2015
Decor8 Northern - decorators merchants in Bury and Manchester - is celebrating 30 years in business this year.
The company has enjoyed three decades of growth, supplying many different customer groups including painters and decorators, painting contractors, local authorities, hotels, property developers, breweries, factories of all types and of course the general public. From its inception in 1985 the main driver for the growth and direction of the company has been to deliver quality products at affordable prices. The directors and staff are continually exploring new, leading technologies from around Europe for the British market and to deliver such cutting edge, innovative products in a professional and reliable manner.
Over that time the company has continually adapted to stay ahead of changes in the market and technology. For many years it has been a very successful online trader promoting and selling many leading international brands and innovative products, including Properla, the latest advanced energy-saving wallcoating product range from Germany.
Decor8 Northern has today marked its 30th anniversary by launching its latest ecommerce site. The new Decor8 Northern Online Store (http://store.decor8northern.co.uk) is now open for business. The site aims to offer the convenience of online buying across the full range of essential trade products for decorators. The store stocks paint, woodstains, workwear, paint brushes, paint rollers, cage frames, extension poles, pasting tables, dust sheets, masking tapes, lining papers, textured papers, pastes and adhesives, abrasives, pasting tables, decorators' tools, and cleaning products. All the major brands are carried, including Dulux Trade, Armstead Trade, Johnstones Trade, Leyland, Crown Trade, Macphersons, Purdy, Corona, Brushmate, Everbuild, Liberon, Sadolin, Rustoleum, Properla, Sandtex, Sikkens, Solvite, Snickers, Ecocoat, Hamilton Acorn, and Frogtape.
According to Decor8 Northern managing director Gary Thompson:
"We are excited to be launching this new ecommerce website for decorators. Our new store will enable current and new customers to obtain the full range of decorators' essentials at highly competitive Internet prices and with next day delivery."
The company recognises the need to stand out from the crowd and to offer customers something distinctive. So, the Decor8 Northern Online Store will run monthly promotions for many paint lines and decorating accessories enabling customers to benefit from hugely discounted prices. The company plans also to introduce new products to the market from Germany and the United States so that customers will be able to benefit from the latest decorating technologies available anywhere in the market.
Says Gary Thompson:
"Of course, we want our customers to gain competitive advantage from having access to the best possible prices on their materials and equipment. But, just as importantly, we want them to be able to offer and use the latest products, innovations, and technologies available so that they can operate more efficiently than their competitors. Using the best products means you can deliver work more quickly, at lower cost, and to the highest standard, meaning more business, greater customer satisfaction, and higher margins."
Another distinctive characteristic of this new online store is that it encourages customers to recommend friends and colleagues to visit the site and to reward them for doing so. Currently, the site is offering a £20 M&S voucher for referring a new customer.
A further innovation is the Decor8 Northern Essentials Club. By joining the Essentials Club, customers will be notified of the best "when-they're-gone-they're-gone" limited-release deals first, giving them a chance to snap up the opportunities while stocks last.
Company History
The company started trading in 1985 in the Lancashire town of Accrington, dealing with leading suppliers like Leyland, Johnstones, Manders and Sigma Paints. With the opening of the central Manchester branch the company rebranded as Decor8 (Northern) Ltd.
In 2005 a Trade Centre and Distribution Depot opened in Bury, Lancashire, which provided the opportunity to expand its distribution of products all over Great Britain. The Rustoleum brand was hugely successful for the company with national accounts such as Leyland, Johnstones Trade Centres, Crown Paints and many UK wide independent merchants.
Trade enquiries
The company prides itself on its ability to provide great products at the best possible prices. This is as a result of strong, established relationships with many suppliers, making it possible to offer superior discount structures that are passed on to customers. Decor8 Northern welcomes enquiries from existing and new decorators, contractors or users of paint products to explore its competitive pricing structures with a view to providing improved terms across a wide range of products.