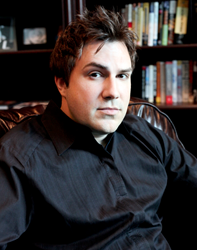 People want connected homes," says Jason Hope. "They are just waiting for the final piece of the puzzle that will make them practical and unite the many different systems out there
Scottsdale, AZ (PRWEB) January 13, 2015
With the Consumer Electronics Show now over, USA Today predicted that the "smart home" would take center stage among the over 900 companies who went to the show. Jason Hope believes that this was the case, and that the show may be a crucial turning point in advancing smart home technology.
In the article, entitled "The connected home is going to be big at CES," Jon Swartz of USA Today indicates that several of the major vendors at the show intend to showcase their products, and Samsung Electronics CEO Boo-Keun Yoon delivered a keynote speech on the topic.
This information is going to be key to getting people to embrace the Internet of Things, many experts believe, as homeowners are not quite at the point of fully embracing this technology. The article, which was published on December 31, quotes Michael Wolf, chief analyst at NextMarket Insights, who said, "We're still in the age of educating consumers, who have not embraced the concept yet."
Jason Hope agreed with these predictions, and with Wolf's analysis. "Unfortunately, many consumers don't quite realize how much of a difference the Internet of Things can make in their day-to-day lives, and how many options are available to them. Add in the lack of standardization and concerns over security, and we have a situation that is ready to be perfected so people will embrace it. Hopefully the showcases, products and information presented at CES helped."
In 2014, less only around 2 million households in the United States are quipped with smart home systems. USA Today and NextMarket Insights predict this will increase seven-fold by 2019, when over 15 million households will have systems. "People want connected homes," says Jason Hope. "They are just waiting for the final piece of the puzzle that will make them practical and unite the many different systems out there."
That piece may be found in the 2015 CES. The show was hosted January 5 through 9 in Las Vegas.
About Jason Hope
Jason Hope resides in Scottsdale, Arizona, where he uses his resources to support education about the future of the Internet of Things. He also supports research into anti-aging healthcare and technology. His goal is to see people live longer, more enjoyable and more productive lives through the advancement of technology and healthcare. Learn more at http://www.jasonhope.com.