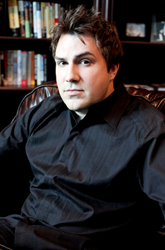 Retailers are always looking for more ways in which to limit the amount of product they lose, and this system can help limit that problem
(PRWEB) August 20, 2015
The Internet of Things is changing the face of many industries, and a recent report on CIO.com indicates it has come to the frozen food section of the grocery store. Kroger, a supermarket giant, has turned to the Internet of Things sensors to regulate the temperatures of its frozen food section, marking the company's first time delving into connected technology. Jason Hope, futurist and tech guru from Arizona, indicates this is one of the practical applications of the Internet of Things he has been advocating for.
In the July 31 article entitled "The Internet of Things now includes the grocery store's frozen-food aisle," Tom Kaneshige of Cio.com indicates that the $108 billion supermarket chain is relying on sensors to eliminate the ice crystal buildup that comes when frozen food products freeze, thaw and then freeze again. The article quotes Chris Hjelm, CIO at Kroger, who indicates factors like defrost cycles, compressors and even doors that don't seal or are not closed properly can cause temperature spikes that lead to losses.
According to the article, the Internet of Things temperature monitoring system has cut labor and energy costs while also reducing the amount of food the company has had to throw out because it has gone bad. It has also improved customer service when customers purchase cold and frozen foods they are satisfied with. The system uses tags connected to a ZigBee wireless network, and it has been installed in about half of the chain's stores, with a complete rollout expected by 2016.
"If this system proves to be as effective as it seems it will be," said Jason Hope, "we can expect to see more similar systems in the future. Retailers are always looking for more ways in which to limit the amount of product they lose, and this system can help limit that problem."
Installing the system did pose some challenges, indicated Hjelm. They had to find the right sensors that were waterproof and resistant to humidity, and they had to invest in a data management plan and employee training, but the rewards have been worthwhile.
About Jason Hope
Jason Hope resides in Arizona, where he watches the development of the Internet of Things with great interest while supporting research into advances in the health and well-being of mankind. Learn more about his work and his philanthropic efforts at http://www.jasonhope.com.