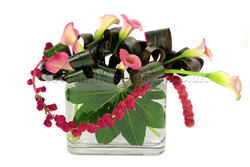 London, GB (PRWEB UK) 17 June 2015
Today, Todich Floral Design, announces the release of their latest range of corporate flowers, a line of exquisite flower arrangements for corporate businesses, hotels, bars, restaurants and offices. Flower enthusiasts, business owners and lovers of summer, will be pleased to know, London florist, Todich Floral Design have put together spectacular business flowers for summer 2015.The exquisite range includes an array of lavish centrepieces, table flowers and plants to suit business environments. Arrangements of orchids, birds-of-paradise, Anthurium, tulips, roses, lilies; hydrogen's, peonies and carnations amongst others, with tips on secret styling trends floral inspiration and adding drama with flowers at corporate events.
Corporate florist Todich Florist Design in-house specialists, a team of designers and talented florists team up to create a collection suited to corporate businesses, a floral line up made up of the latest décor trends, specifically designed to brighten and uplift tired looking corporate spaces, whilst adding new dimensions with show stopping centrepieces. The London corporate florist's on-trend collection, an exquisite range of latest décor trends, bespoke floral arrangements; includes flower designs for bars, restaurants, hotels, corporate businesses and private events. Join the office chic makeover at Todichfloraldesign.co.uk.
Always on-trend with floral, fashion, the florists strong awareness of commercial and seasonal trends, allows them to generate on-trend flower designs for its increasing number of requests for colour contrasts and more bolder, daring styles. Whether it's a preference for bold colours or soft sumptuous pastels, 'go for big statements, welcome clients with cheery flower arrangements,'- says the London florist.
Plants and flowers for corporate offices. Beautiful corporate flowers, inject colour, instantly uplift interiors, increasing positive energy and help build office morale, whilst breathing new life to corporate spaces. More than just vibrant shades, the colours of different flowers are visually stimulating and proven to play an integral part, in lighting moods and reducing stress. For instance, serene pastel blues of hydrogen petals and green of plants, are extremely soothing.
Todich Floral Design enables businesses to wow guests and staff alike with breathtakingly beautiful corporate flowers. Todich Floral Design's dynamic, bold blooms, brings a touch of the outdoors in with, spectacular floral displays to enhance corporate spaces for a truly special experience. Here are some of our favourites.
The Minimalist: Orchids, Tulips, Calla Lilies, Roses, Anthurims, Peonies, Hydrangeas
Calla Lillies: Todich Floral Lucky Bamboo arrangement, lucky as the bamboo is believed to gather positive Chi energy and bring fortune and prosperity to and brighten up office spaces.
Or how about the Orchid Trio? Inspired by the minimal design of the east, the orchid's architectural stem and flowers, orchids make a fitting elegant corporate flowers which continuo to blossom for over two months.
Or how about the Orchid Trio? Inspired by the minimal design of the east, the orchid's architectural stem and flowers, orchids make a fitting corporate flowers and continues to blossom for over two months.
Orchids come in a show stopping range of colours and shapes and create a luxurious, exotic and elegant and minimalist feel to office interiors. Offering a spectrum of shades to choose from from classic clean white to pale pinks and deep reds and lush forest greens, orchids distinct shape and regale form add an abundance of joy and sophistication and sheer delight to office environments.
I Dream of Colour: Exotic Plants
Vibrant bountiful blooms continue to reign supreme this season. Bolds shades and pastels are in! The London Florist predicts, despite clear variations in taste, for modern, bold and structured styles, classic wild designs, with a vintage flair, or contemporary abstract and minimal flower designs, there'll be a general preference for corporate flowers in a mix of soft and vivid abstract designs; vivid violets, oranges, subtle pinks, classic whites and forest green hues. There also a renewed focus on pastel shades, bold tones and beautiful blends of the two; colours that will continue to take pride of place in office spaces. Take a peek at these exotic irresistible designs with vibrant shades.
Country Gardens
A combination of classic white roses, pink calla lilies and forest green foliage work wonders for business spaces. Opt for soft pastel tones; peach, blush, plums, creams and forest green and prairie shoots, will add a rugged, unstructured and artistic feel, bring the outdoors and inject a touch of elegance and a rustic flair to office interiors.
So whether its a preference for chic, contemporary and innovative, rustic or quaint, Todich Floral Designs latest summer flower arrangements, in a range of designs and styles are sure to bring office chic to business interiors.
Todich Floral Design is a florist based in London, GB. Todich Floral Design boasts an opportunity to work with in-house floral designers, and create essential fashion, flowers for corporate events, bespoke weddings, bars, restaurants, hotels and loved ones. Experts in creating spectacular flowers for all occasions, Todich Floral Design online boutique provide exquisite floral arrangements, customers receive free delivery and installations for all events, with free same day flower delivery in London, and next day flower delivery throughout the UK. All its flowers are sourced from local suppliers, which comply with the company's strict quality standards. The London based florist's impressive back catalogue which include floral designs for, Café Royal, Mandarin Oriental Hotel and the National Gallery. Todich Floral Design received, Best Business for Customer Service of the year in 2011 by the Lambeth Business Awards.