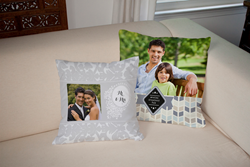 "With MailPix Photo Personalized Burlap Pillows, you can add personality to your throw pillows" Fred H. Lerner, CEO and founder, MailPix
Huntington Beach, CA (PRWEB) May 27, 2015
MailPix, the photo-printing, canvas and gifting site, was featured on the NBC morning show program, "The Today Show," and viewers received a special code to get 75 percent off at this special link: http://www.mailpix-deals.com.
"With MailPix Photo Personalized Burlap Pillows, you can add personality to your throw pillows," says Fred H. Lerner, CEO and founder, MailPix. "Enjoy rustic home decor without living in the country. It makes a great gift."
A $72-80 value, the personalized pillows can be ordered for $19 (plus $6.99 shipping) in either 16x16-inch or 18x18-inch sizes. Users can choose to print full-bleed single images or collages, and even choose a different image on each side. Burlap is a coarse woven fabric made from vegetable fiber; as with all products made from natural materials, imperfections and inconsistencies are normal. The pillow is included; designs are printed on the machine-washable pillow case.
ABOUT MAILPIX.COM
MailPix.com is the pre-eminent site for printing photos instantly at thousands of retailers from your phone app or PC and also offers convenient mail-to-home. MailPix preserves photo memories as photo books, canvas, prints, cards, enlargements and other photo gift products. The service is seamlessly integrated to print your photos and the photos you are tagged in from Facebook and Instagram photos…and photos from any phone, device or computer. MailPix offices are located in Huntington Beach, Calif., with an additional Canadian site at http://www.mailpix.ca. The MailPix brand portfolio also includes Winkflash.
Fred H. Lerner is the founder and CEO of MailPix, his latest startup. He previously founded Ritz Interactive, which included RitzCamera.com, WolfCamera.com and others.  Fred also founded two imaging companies which were acquired by Kodak and became the CEO of Kodak Processing Labs. He is a United Nations' Hall of Fame recipient from the International Photographic Council and Past President of the Photo Marketing Association International.
Peter Tahmin, co-founder and COO of MailPix, was the former vice president at Ritz Camera & Image and co-founder, senior vice president and COO of the Ritz Interactive e-commerce network, which included RitzCamera.com, WolfCamera.com, BoatersWorld.com and others. He brings 20 years of e-commerce experience and a lifetime of imaging industry experience to MailPix.