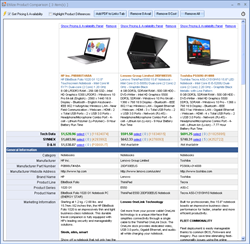 This major upgrade ensures our users will see an immediate improvement in their quoting and proposal process...
Orlando, FL (PRWEB) November 10, 2015
Aspire Technologies, Inc., the market leading provider of sales quoting and proposal software solutions for the global small and mid-markets, today announced a substantially enhanced and improved Etilize integration offering in QuoteWerks Version 5.1 Build 1.
The new features in the integration are in direct response from valuable feedback and suggestions from current QuoteWerks users. After collecting and analyzing these responses, the QuoteWerks development team expanded the Etilize functionality to make it an easier, faster, and a more reliable way to search and find items from the supported distributors (Ingram Micro, Tech Data, Synnex, and D&H).
Included in the new integration is the ability to:

Drill-down for specific items by manufacturer, product category, attributes, and more
Automatically view a list of similar items to provide additional options for the client
Provide upsell items to create a good, better, best, option list in the quote or proposal
Retrieve the pricing and availability from multiple vendors with a single click
Compare up to 15 items in a grid to highlight the differences between items
Additionally, the new comparison window can be saved as a PDF attachment and added to the client's quote or proposal as a complementary sales document. Users even have the ability to remove items that have no cost or stock associated with the items to immediately de-clutter the comparison window.
"Our Etilize integration is the foundation for creating quotes and proposals for many of our technology focused users and this expansion of the integration delivers a more efficient way to search, select, and compare items directly in QuoteWerks. This major upgrade ensures our users will see an immediate improvement in their quoting and proposal process through the superior functionality delivered in the latest update", says John Lewe, President and Lead Developer of Aspire Technologies, Inc.
In order to use the new Etilize integration, users will need to have a current Product Content Subscription, be current on QuoteWerks maintenance, and have upgraded to QuoteWerks Version 5.1. The latest version of can be downloaded from the What's New page: http://www.quotewerks.com/whatsnew.asp.
About Aspire Technologies and QuoteWerks®
Aspire Technologies, Inc., the developers of QuoteWerks, is one of the early pioneers of the Quoting Software space. QuoteWerks has received numerous awards and is the market leading sales quoting and proposal solution serving over 76,000 users in over 101 countries. QuoteWerks® integrates with leading CRM, PSA, and accounting packages, along with IT distributors D&H®, Ingram Micro®, SYNNEX®, and Tech Data®, enabling businesses in all industries to integrate QuoteWerks® seamlessly into their existing environments. Aspire Technologies is headquartered in Orlando, Florida and is an ASCII and CompTIA member. For more information, please visit http://www.quotewerks.com.
QuoteWerks is a registered trademark of Aspire Technologies, Inc. Other trademarks referenced are the property of their respective owners.