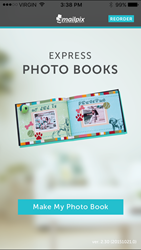 "This app makes it easy to make photobooks from the camera roll or from social media accounts. Convenient retail pick-up is an alternative to our already-popular ship-to-home service." -- Fred Lerner, CEO and president, MailPix
Huntington Beach, CA (PRWEB) November 10, 2015
MailPix, the photo-printing, canvas and gifting site, announced its new Same Day Photobooks app will print to 5,900 Walgreens retail locations. The free app is available from the Apple iTunes store.
The app makes photobook making and ordering simple. Users can simply select pictures from their camera roll or import them from Photobucket, Facebook or Instagram, and can place them in ready-made templates for many occasions, like holiday memories, baby, birthday, and more. MailPix Photobooks come in an 8.5x11 size with 20 Pages and a Black Linen Cover for just $19.99; there's no shipping since the finished books are picked up in about an hour at more than 5,900 Walgreen locations.
"MailPix customers will appreciate the ease and convenience of our Same Day Photobooks, usually available in about an hour or sooner," says Fred H. Lerner, founder and CEO, MailPix. "This next-generation app makes it easy to make photobooks from the camera roll or from social media accounts. Convenient retail pick-up is an alternative to our already-popular ship-to-home service, just in time for the holidays."
About MailPix.com
MailPix.com is the pre-eminent site for printing photos instantly at thousands of retailers from phone app or PC and also offers convenient mail-to-home. MailPix preserves photo memories as photo books, canvas, prints, cards, enlargements and other photo gift products. The service is seamlessly integrated to print photos and tagged photos from Facebook and Instagram photos…and photos from any phone, device or computer. MailPix offices are located in Huntington Beach, Calif.
Fred H. Lerner is the founder and CEO of MailPix, his latest startup. He previously founded Ritz Interactive, which included RitzCamera.com, WolfCamera.com and others.  Fred also founded two imaging companies which were acquired by Kodak and became the CEO of Kodak Processing Labs. He is a United Nations' Hall of Fame recipient from the International Photographic Council and Past President of the Photo Marketing Association International. 
Peter Tahmin, co-founder and COO of MailPix, was the former vice president at Ritz Camera & Image and co-founder, senior vice president and COO of the Ritz Interactive e-commerce network, which included RitzCamera.com, WolfCamera.com, BoatersWorld.com and others. He brings 20 years of e-commerce experience and a lifetime of imaging industry experience to MailPix.