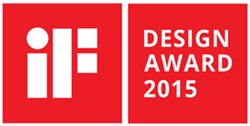 The color scheme and integrated LED lighting emphasizes the modern look and makes it perfect for setting an architectural accent.
Salt Lake City, UT (PRWEB) March 20, 2015
Bullfrog International, manufacturer of premium portable spas, is pleased to announce that STIL, a new modern-concept portable hot tub, has been awarded the 2015 iF Design Award for excellence in product design.
The iF Design Awards are a long standing program started in 1954 with the goal of inspiring and recognizing excellence in industrial and product design. An international jury of more than 50 design and engineering experts is responsible for selecting award recipients.
STIL (branded Just Silence in European market) was born from a collaboration between Bullfrog Spas and a European distribution partner, Villeroy & Boch, to address the needs of the modern European and North American spa markets. The design embraces an approach that fuses modern design elements with well-thought-out comfort and cutting edge functionality. The STIL spa promises to appeal to the design-minded consumer with a sophisticated modern aesthetic.
iF Design Award judges remarks included the following:
"(STIL) features a clear and minimalist cubist design, both inside and out. The color scheme and integrated LED lighting emphasizes the modern look and makes it perfect for setting an architectural accent. The innovative seating concept ensures sufficient legroom and comfort when reclining for all users."
In addition to aesthetic appeal, STIL is engineered to perform with Bullfrog's patented JetPak Therapy System. This proprietary hydro-massage system creates the only truly personalized hydrotherapy experience available in portable spas. The JetPak Therapy System allows the spa user to customize specific spa seats with any of several modular jetted massages (JetPaks) they choose and to interchange those massages at any time.
STIL is available to the public through Bullfrog Spas Authorized Dealers and Distributors only. Press inquiries may be directed to Bullfrog Spas at press(at)bullfrogspas(dot)com.
About Bullfrog Spas
Bullfrog International LC began in 1996, engineering quality portable hot tubs with patented JetPak Technology. JetPaks are modular jetted spa seats that can be interchanged at any time. Bullfrog's current ultra-efficient JetPak Therapy System is a re-engineered hi-tech version of the original JetPak concept. Bullfrog International, is headquartered in the Salt Lake City, Utah metro area and currently distributes, licenses, and retails its products in the United States, Canada, Australia, New Zealand, South America, Asia, and Europe. Bullfrog Spas and the JetPak Therapy System are protected by numerous US and international patents.
For questions on Bullfrog Spas call 801.565.8111. Bullfrog executives are available for interview.