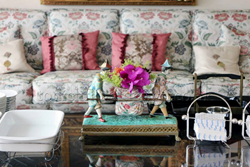 London, GB (PRWEB UK) 28 June 2015
Corporate florist Todich Floral Design, announces its home décor trends for spring for 2015, a floral collection for interiors, which takes inspiration from enchanting country gardens. Its new collection is made up of the lasted home décor trends, an exquisite range of indoor flowers and corporate flowers to enhance the home and office.
Summer has certainly arrived with Todich Floral Design new floral collection. Its home décor trends for spring 2015 kicks off the summer season, with its dynamic, bold blooms, exquisite floral arrangements with brings a touch of the outdoors in.
The London based florist, new home décor trends displays an array of flowers; rich in colour, texture and design. The flower boutique takes cues from 2015's Floral Colour Palette, a global colour authority on colour trends. Todich Floral Design predicts flower arrangements in pastel shades, will remain a hot trend this season, along with more daring arrangements, which burst with colour.
Indoor flowers. Elvenhome: Todich Floral Design's exquisite range brings the outdoors indoors, with its Elvenhome flower arrangement. This beautiful arrangement incorporates natural seasonal elements with pale green hydrangea petals, which add a sense of charm and enchantment to home décor.
Potted Gerberas. Todich Floral Design's potted Gerberas, are a vision of beauty. It injects colour into the home with contrasting shades, that instantly brighten the kitchen and living spaces. The London florist's joyful arrangement works as a pleasant focal point and a great way to welcome guests, at home get-togethers.
Roses. The flower boutique's roses make spectacular centrepieces for the home. Its beautiful floral arrangements, adds a touch of elegance and romance to any indoor spaces. The roses look great on mantel pieces or tables, creating a beautiful focal point for, kitchen and living spaces.
Exotic flowers. Todich Floral Design's orchids shine in indoor spaces, adding a fresh and contemporary feel to the home. Eastern inspired, its designs are simplistic, romantic and instantly add a touch of minimalism and sophistication to home interiors. The floral boutiques irresistible blend of traditional flowers and modern vases, revive and refresh the home.
Tulips, orchids, carnations and hydrangeas are beautiful flowers, that come in an array of vibrant colours and brighten up home interiors. For an instant touch of summer, place flower arrangements in a glass vase, for an elegant, beautiful look. These flowers, work to add sophistication to home decor.
Plants and flowers for corporate offices London florist, Todich Floral Design's in-house team, made up of skilled designers and talented florists with a wealth of knowledge and expertise, come together to share a range of flower ideas and inspiration for private events and office spaces.
Corporate flowers and plants have the potential to set the mood and tone of your office, instantly uplifting and bringing new dimensions to work spaces. The London florist's home décor trends for 2015, are exquisite, on-trend flower arrangements, which use fresh seasonal flowers and plants, to add a welcoming feel to office spaces.
Its vibrant flower range is great for, corporate spaces and company receptions. Its striking office flowers bring a positive feel and breath life, into drab looking work environments, whilst Its exotic flower range; beautiful blends of traditional pastel tones and vivid shades, add beauty and new dimension to office spaces.
Office flowers. The delicate red hues of the Peony flower represent joy and optimism, and works great to up-lighting corporate spaces. It increases positive energy and building office morale. The London florist has a spectrum of flowers in a range of designs and styles, all of which are tailored to fit its customers' floral requirements.
Todich Floral Design outlines the many benefits of plants an deflowers. It suggests, flowers add colour and character and help to reduce daily stresses that come with working in a fast paced environment. Plants also soak up waste products, such as air pollution and carbon dioxide, releasing oxygen into office spaces.
Oxygen is good for the brain and helps to improve focus. The beauty of the flowers, is its ability, to increase office appeal and transform the look and feel of the workplace.
More than just vibrant shades, the colours of different flowers play an integral part in lighting moods and reducing stress. The serene pastel blues of hydrogen petals and green of plants, are extremely soothing. What's more, plants stimulate creativity, which helps to increase production.
Todich Floral Design: is a florist based in London, GB. Founded over 17 years ago, by Todd. The florist is made up of a team of specialists, flower designers and talented florists, with knowledge and years of expertise.
Specialists in flower design and styling, Todich Floral Design, create, spectacular floral arrangements for events, hotels, corporate spaces and bespoke flower displays for weddings. Its free consultation provides invaluable advice on designs and flower trends for each event and tailor all designs to the customer's floral requirements.
The London florist provides corporate clients, with a weekly service, which includes free consultation, flower delivery and maintenance. Todich Floral Design customers receive free delivery and installations for all events. All its flowers are sourced from local suppliers, which comply with the company's strict quality standards. An Eco friendly business, the London based florist has an impressive back catalogue which includes, Floral designs for, Café Royal, Mandarin Oriental Hotel and the National Gallery. Todich Floral Design received, Best Business for Customer Service of the year in 2011 by the Lambeth Business Awards.