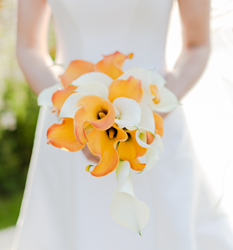 London, GB (PRWEB UK) 17 June 2015
Flowers set the mood and look of a wedding. Summer time is a great time for weddings, and we at wedding florist Todich Floral Design are excited particularly where flowers are concerned. Summer explodes with an array of bright blooms, expect bold blues, dazzling reds, oranges, sunny yellows and sumptuous pastel shades.
Often imitated, but never duplicated; nothing beats the fresh scent and cheery colours of real flowers. A Symbol of growth and new beginning summer flowers perfectly embody the two.
Summer weddings will see reoccurring trends of classic, sophisticated white rose arrangements of recent years, and vintage, rustic floral arrangements along with bolder, more daring floral arrangements. And our lasted summer wedding trends 2015, will help stamp bride's personality on her big day and accent décor beautifully.
Choosing a colour palette, using bridal flowers for the special day, is always a good place to start, and our skilled designers and talented wedding florists, will work with London brides, offering a range of summer wedding flower ideas, to meet their floral needs.
Wedding flowers look spectacular and smell divine. Whether it's a preference for vintage classics, pastel shades of roses, tulips and hydrangeas or more contemporary contrasting flower arrangements, such as classic white roses and vibrant violet hydrangeas and lush green foliage, our line of summer wedding flower arrangements, will help brides to create a unique look suited to them.
For bold statements, spectacular flower centrepieces, brighten church interiors, show stopping floral Chuppah or wedding canopy as it's known; all add romance, mysticism and enchantment to form magnificent wedding interiors. Our exquisite range of wedding flower trends 2015, instantly transforms and breathes life into new spaces, for unforgettable memories, on the special day.
For a pretty look in pink or bold in blue, be inspired by our new summer wedding collection; an array of on-trend bespoke wedding flower arrangements and bridal bouquets, with heaps of inspiration for the special day this summer.
It's easy to take a liking to flowers as they instantly beautify any space. Not only are flowers pretty and deliciously regale, but they smell divine. Exquisite flowers instantly transform new spaces, brighten and warm up a room. Here are some of our favourite wedding flower designs for summer.
Vintage with a modern spin
Less is more, and that's certainly true for this enchanting and minimalist arrangement. Housed in glass jam jars and filled with summertime favourites, vibrant flowers, radiant and vivid, to create the ultimate summer time wedding arrangement.
Blooming brightly
Vibrant classic white wedding flowers continue a vintage theme for this summer wedding bouquet. An arrangement of white tulips, lilacs, muscari and ranunculus a guilder rose from this spectacular summer wedding arrangement, while hydrangeas, delphiniums, white carnations, white roses and forest green leaves and foliage, add a vintage flair to centrepieces.
Woodland Dreams
For an English woodland feel, reach for these table arrangements of purple hydrangea, delphiniums, white orchids and pink roses, created by our in-house specialists; flower designs and talented florists and housed in a contemporary glass vessel for an ultimate statement piece.
Pastel Haven: Hydrangeas
Hydrangeas, beautiful clusters of small delicate flowers, are now in season. Symbols of friendship, these summertime favourites, add edge and a vintage flair to form spectacular wedding centrepieces. They look just as good, among other summer flowers, to create breathtaking flower arrangements.
Carnations
Perhaps the most common of flowers, though they make their first appearance in winter, are Carnations. Available in a spectrum of vibrant colours, carnations or 'pinks' as they' commonly known, are popular summer flowers. Carnations, long lasting blooms, alluring scents and beautiful form make them the popular choices for bridal bouquets.
Clematis
A summer flower favourite, clematis are enchanting summer flower climbers, fitting for trailing bouquets, loose bridal bouquets and wild vintage wedding centrepieces. These beautiful clustered blooms are both, mystical and enchanting and available in an array of colours; luscious purples, vibrant pinks and vivid blues.
How about our 'Wedding Day' arrangement? A full bloom of regale white captive, individually wrapped with contrasting green bands and featuring vivid blue anthers. Pair with white roses, tulips and lush forest green foliage for full effect.
Precious Ranunculus
This delicate, multiple-petalled flower has seen a rise in demand in recent years, popping up in bridal bouquets, reception centrepieces and bridal fashion. A little like peonies, this delightful flower comes in a spectrum of shades; from classic white, creamy pale pinks, cheery yellows, oranges, fiery reds and rich burgundy, are all in full bloom from January till June. What's great about ranunculus is that they stand tall alone, or look just as great when paired with other glorious summer flowers.
Perfectly groomed
Tropical bold designs, blazing oranges, fiery reds and energetic greens burst with individuality, great for adding drama to wedding centrepieces; they make great bridal bouquets and floral pins, which men can wear.
Contrasting shades
Violet tulips and vivid blue roses, add drama to floral arrangements. Whilst pairing white with bolder colours, classic white roses, regale tulips or bountiful hydrangeas, creates a striking contrast.
Rose Devine
Roses are the year round beauty that bloom beautifully through summer. A popular choice for brides to be, their beauty, elegant form, vibrant colour spectrum, colour meanings and sweet scent make roses fitting flowers for summer weddings. For a vintage look, opt for classic white, cream or coral roses, alternatively reach for bold shades of orange, yellow, blue and red for exquisite striking contrasting shades.
Get in touch with our specialist team of designers and talented wedding florists, to recreate spectacular bridal bouquets and enchanting floral wedding canopies, to breath taking wedding centre pieces.