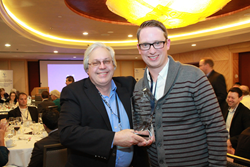 We are pleased to acknowledge the innovation of seven of our customers this year who are using SAP Business One to its fullest potential and optimizing customer value through the power of technology.
Irvine, CA (PRWEB) February 20, 2015
Vision33, an SAP gold channel partner and one of the largest resellers of the SAP Business One® application, recently announced the winners of its annual Visionary Awards program. The Visionary Awards showcase companies that have best demonstrated new ways to leverage SAP's transformative technology solutions in a rapidly growing environment. This year, seven Vision33 customers throughout North America were awarded for their exemplary use of the SAP Business One application in obtaining valuable insight to drive their company growth and achieve business goals.
Vision33 is a leading provider of enterprise resource planning (ERP) solutions for the small to midsized enterprise (SME) market. Selected from nearly 600 Vision33 customers across North America, this year's award winners are fast-growing companies with clear and aggressive growth plans.
"Each of our clients are unique in the way they use SAP Business One to manage and grow their businesses," explained Alex Rooney, Vice President of Vision33's U.S. operations. "We are pleased to acknowledge the innovation of seven of our customers this year who are using SAP Business One to its fullest potential and optimizing customer value through the power of technology."
Stephen Loyd, Vice President of Vision33's Canadian operations, added: "We have seen tremendous growth in our Canadian customers this year. We are happy to recognize them for their commitment to SAP Business One and having capitalized on its capabilities."
Winners of this year's Visionary Awards are profiled below for their achievement.
Based in Colorado, Advanced Assembly (http://www.aa-pcbassembly.com) is a leading printed circuit board (PCB) assembly manufacturer for design engineers. SAP Business One is the company's core platform to drive process change and support business growth through tighter integration between business functions and internal manufacturing systems.
Located in Bakersfield, CA, Innovative Engineering Systems (IES) (http://www.ies-engr.com) provides turnkey solutions for high-growth project-based industries like engineering and construction. By implementing SAP Business One, IES has a real-time reporting platform that automatically aggregates and shares data from multiple sources across the company. Now the company is leveraging business information to deliver projects on time and within budget while supporting strategic business planning and decision making.
CandyRific (http://www.candyrific.com), based in Louisville, KY, has become a leading manufacturer of novelty confectionary candy by providing top-quality products through distributors. In order to continue to produce innovative products for the novelty candy industry, CandyRific implemented SAP Business One. CandyRific now uses the software to pull specific queries and customized reports with access to real-time information that has helped enable growth across the business.
GFR Pharma (http://www.gfrpharma.com) is a leading Canadian contract manufacturer of natural health products and supplements headquartered in British Columbia. As a company that prides itself on product excellence and regulatory compliance, GFR Pharma chose to implement SAP Business One for its flexibility. The company worked with Vision33 to customize several of its unique processes, specifically in dispensing operations and quality control.
Tundra Process Solutions (http://www.tundrasolutions.ca) is a world-class supplier of industrial and commercial process solutions located in Calgary, Alberta. The fast-growing company made the decision to adopt SAP Business One to support future plans to expand its product-line offerings. Since its implementation over two years ago, SAP Business One has helped keep the company on course with the competition, and supported management of numerous acquisitions, product-line and services expansions.
Buchanan Rubber Ltd. (http://www.buchananrubber.com) is a premier Canadian supplier of industrial hose, couplings and sheet rubber products headquartered in Toronto, Ontario and with offices in Montreal, Quebec and Edmonton, Alberta. As a longstanding user of SAP Business One, and with the help of Vision33, Buchanan Rubber has customized the application to fit its inventory needs precisely, focusing on analytics and specialized queries to help scale and promote growth.
For Eyes Optical (http://www.foreyes.com) is a retail optical company specializing in the most advanced level of quality control and customer service. To maintain standards and manage the complexities of its manufacturing facility and retail locations, For Eyes Optical implemented SAP Business One. As the company continues to integrate and extend the product, SAP Business One has supported the ability to expedite monthly closings, increase supply chain automation and produce more accurate reports for the business.
About Vision33, Inc.
With U.S. headquarters in Irvine, CA and Canadian headquarters in Vancouver, BC, Vision33, Inc. (http://www.vision33.com) is a leading enterprise resource planning (ERP) solutions provider, focused on providing the SAP Business One application for growing businesses and subsidiaries of large enterprises. Through offices located across North America, Vision33 provides the right balance of software, world-class consulting and support services to help customers better manage and grow their business.
As an SAP gold channel partner, Vision33 has more than 600 customers and is consistently honored for its notable growth and dedication. Vision33's recent accolades include the 2013 Inc. 500|5000 in Inc. magazine's list of fastest-growing private companies in the U.S.; CRN's Fast Growth 150, an annual ranking of the fastest-growing business and technology integrators, solution providers, resellers and IT consultants in North America; and the VAR 100 list that recognizes the top-tier accounting and ERP software resellers in the country. Additionally, Vision33 has a consistent four-year record as recipient of the SAP North America Partner Excellence Award for SAP Business One; Accounting Today's Top VAR 100 List; and has been recognized as a finalist for a 2012 SAP® Pinnacle Award in the category "SAP PartnerEdge® Global Fastest-Growing Reselling Partner of Year."
Vision33 is a member of the Group zed family of companies. With roots dating to 1992, Group zed (http://www.gzed.com) is a privately owned and operated corporation, which provides its family of industry-leading companies with the strategic vision and tools to deliver on the promise of technology to customers, setting them apart from other industry peers.
###
SAP, SAP Business One, PartnerEdge and other SAP products and services mentioned herein as well as their respective logos are trademarks or registered trademarks of SAP SE (or an SAP affiliate company) in Germany and other countries. See http://www.sap.com/corporate-en/legal/copyright/index.epx for additional trademark information and notices.
All other product and service names mentioned are the trademarks of their respective companies.