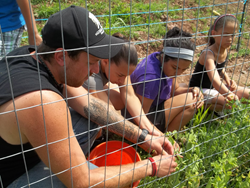 I see community service as a learning tool that can be implemented in the future to fix social problems
Reading, PA (PRWEB) March 27, 2015
Robert Waller, Center Moriches, N.Y., has been named a Newman Civic Fellow for 2015. An accounting major at Alvernia University, Waller is highly involved in service through the university's Holleran Center for Community Engagement.
Through service, research, and advocacy, Newman Civic Fellows are making the most of their college experiences to better understand themselves, the root causes of social issues, and effective mechanisms for creating lasting change. As these students tackle community challenges, they provide fresh energy and perspective, inspire and mobilize others, and develop their own skills and potential.
"It is Rob's enthusiasm for inspiring others to do good in the world that makes him such an ideal candidate for this award," said Alvernia President Tom Flynn. "Rob's commitment does not stop with himself. His enthusiasm for helping others is contagious. He has encouraged many students to follow his example and become leaders of positive change in our community."
Waller credits the Cub Scouts and lessons he learned while stationed in Iraq with the U.S. Army with providing a strong foundation for a commitment to social change. He has continued to demonstrate the depth of this commitment as a student at Alvernia University through his involvement in many service-related initiatives both on campus and in the community, including five Alternative Break service projects in places like Camden, Tennessee, and Philadelphia. He has also been instrumental in the university's new Bog Turtle Creek Farm — a sustainable food initiative designed to supply fresh produce to low-income, inner-city families.
"The farm responds to the societal issue of food security by growing produce and selling it in an area of Reading that lacks access to healthy food," explains Waller. "I see community service as a learning tool that can be implemented in the future to fix social problems, and I believe that knowledge is the key that will unlock the door to happiness."
Through service-learning courses and other opportunities for community engagement, colleges are developing students' public problem-solving skills, such as the ability to analyze community needs, the willingness to participate in public processes and debate, the commitment to raise awareness about challenges, and the ability to inspire others to become part of solutions.
"These students represent the next generation of public problem solvers and civic leaders. They serve as national examples of the role that higher education can — and does — play in building a better world," notes Campus Compact Board Richard Guarasci, president of Wagner College (NY).
Newman Civic Fellowships are named for Dr. Frank Newman, a founder of Campus Compact who had a tremendous impact on American education and its role in the development of citizens prepared to make a difference. "He dedicated his life to creating systemic change through education reform and this new group of Newman Civic Fellows would have inspired him. They are reflections and affirmations of his life's work." said Campus Compact President Andrew J. Seligsohn.
Campus Compact is a national coalition of nearly 1,100 college and university presidents who are committed to fulfilling the civic purposes of higher education to improve community life and to educate students for civic and social responsibility. For more information about the organization and the award, visit http://www.compact.org.
ALVERNIA is a thriving university that empowers students through real-world learning to discover their passion for life, while providing the education to turn what they love into lifetimes of career success and personal fulfillment, helping them make the world a better place. Situated on a scenic 121-acre suburban campus in historic Berks County, Pa., the university of more than 3,000 students is conveniently located near Philadelphia (60 miles) and within an easy drive of New York, Baltimore and Washington, D.C. With a College of Arts and Sciences and College of Professional Studies, Alvernia today offers more than 50 undergraduate majors and minors and a range of graduate programs at the master's and doctoral levels through its School of Graduate and Adult Education.