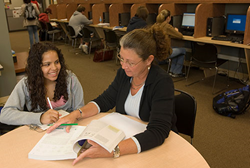 For generations, seniors have been making a powerful impact in their communities, and their service is more important now than ever.
Reading, PA (PRWEB) August 25, 2015
The Corporation for National and Community Service (CNCS) has awarded Alvernia University a Senior Corps grant of nearly $900,000 over three years to support a new Foster Grandparent Program in Berks County. The grant will support 66 Foster Grandparent volunteers who will serve one-on-one as mentors and tutors to impact K-12 academic success and school readiness for high-needs children. Foster Grandparents will serve in educational settings throughout Berks County working with K-12 youth, including two existing Alvernia University community programs: the South Reading Youth Initiative, Reading Collegiate Scholars Program; as well as the Ready.Set.READ program, spearheaded by the United Way of Berks County.
Alvernia University will leverage the skills of Foster Grandparents to improve school readiness and help children gain academic confidence to excel in school. Today, more than 1,400 Foster Grandparents serve in approximately 300 service locations across the state. This year marks the 50th anniversary of the Foster Grandparent Program (FGP).
"The Foster Grandparent Program involves many community organizations working together to improve educational outcomes for young people in our community. Alvernia's involvement as a leader in this community effort is crucial to the success of FGP in Berks County," said Jay Worrall, director of the Holleran Center for Community Engagement. "We're thrilled that the Corporation for National and Community Service has recognized the value that senior citizens can add to youth mentorship programs like Alvernia's South Reading Youth Initiative."
"For generations, seniors have been making a powerful impact in their communities, and their service is more important now than ever," said Wendy Spencer, CEO of the Corporation for National and Community Service. "With so many people in need, senior volunteers are making a difference in the lives of children, veterans, elderly, and disaster survivors. Leading the way are more than 270,000 Senior Corps volunteers. We congratulate Alvernia University for their strong application, and thank all Senior Corp volunteers for their dedication to service."
According to last year's Volunteering and Civic Life in America report by CNCS, more than 20.7 million older adults –quarter of those 55 and older – contributed more than 3.3 billion hours of service in their communities. Based on the Independent Sector's estimate of the average value of a volunteer hour, the yearly economic benefit of this service to the nation is valued at $75 billion.
In Pennsylvania, more than 15,000 seniors contribute their time and talents in one of three Senior Corps Programs – Foster Grandparent Program, Senior Companions, and RSVP. The Foster Grandparent Program is an intergenerational program that provides volunteers age 55 and over the opportunity to provide mentoring, nurturing, and support to children with special or exception needs, or who are at an academic, social, or financial disadvantage.
Senior Corps is a program of the Corporation for National and Community Service (CNCS), the federal agency for volunteering and service. CNCS engages more than five million Americans of all ages and backgrounds in service each year through its Senior Corps, AmeriCorps, Social Innovation Fund, and Volunteer Generation Fund programs and leads President Obama's call to service, United We Serve. For more information, visit nationalservice.gov.
ALVERNIA is a thriving university that empowers students through real-world learning to discover their passion for life, while providing the education to turn what they love into lifetimes of career success and personal fulfillment, helping them make the world a better place. Situated on a scenic 121-acre suburban campus in historic Berks County, Pa., the university of more than 3,000 students is conveniently located near Philadelphia (60 miles) and within an easy drive of New York, Baltimore and Washington, D.C. With a College of Arts and Sciences and College of Professional Studies, Alvernia today offers more than 50 undergraduate majors and minors and a range of graduate programs at the master's and doctoral levels through its School of Graduate and Adult Education. Satellite sites are located in Philadelphia and Schuylkill County. As one of only 22 Franciscan institutions in the country, Alvernia's focus on caring for each other, the environment and the community are joined with a challenging educational experience to provide an unparalleled environment to grow, develop and mature as a person and professional.