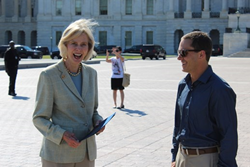 Rep. Lois Capps told Taylor Lancaster, "There's no down side to transparency on these things, just telling people what's in their food."
Santa Barbara, CA (PRWEB) September 29, 2015
Omega Point Institute, World Business Academy and Garlic Gold are proud to announce that Taylor Lancaster arrived home to Santa Barbara, CA on September 28, at the completion of his eight-month-long trek across America, the "Walk2Know." On September 16 he met with Congress members Lois Capps and Peter DeFazio in Washington DC, and was honored to be recognized for his accomplishment by a Congressional Award from Representative Lois Capps.
He was being honored by key members of Congress in his plea for simple honesty, for truth in labeling products that contain GMOs (genetically modified organisms). He spoke with California Representative Lois Capps and Oregon Representative Peter DeFazio about the possibility to defeat upcoming Senate bill HR 1599, which would prevent consumers from knowing whether or not a food product contains GMOs. In polls, 9 out of 10 Americans have said they want to know.
During their meeting, Lois Capps (CA-24) congratulated Lancaster on his incredible journey and presented him with a certificate of recognition, as well as a copy of a statement that was entered into the Congressional Record to highlight Lancaster's efforts to improve GMO product labeling. She told him, "There's no down side to transparency on these things, just telling people what's in their food."
Earlier this year, Capps and DeFazio voted against the Safe and Accurate Food Labeling Act (HR 1599). GMO labeling advocates like GMO Free USA refer to the bill as the "Deny Americans the Right to Know (DARK) Act," because they say it would "codify the current system of weak, voluntary GMO labeling standards, preempt existing state GMO food labeling laws, and prohibit states from passing their own labeling requirements."
Peter DeFazio (OR-4) is the roaring lion on the issue, and minced no words. He told Lancaster, "We're losing. The people with the money don't want to risk damaging their share of the products on the grocery store shelves. And they've spent millions to get the support they need."
"I am so impressed by Taylor Lancaster's journey and his commitment to ensuring consumers' right to know what is in their food," Congresswoman Capps said. "I'm pleased to recognize Taylor for his great work to raise public awareness on this important issue, and I hope it will build further momentum in Congress to strengthen federal labeling standards."
"I am incredibly grateful for the opportunity to raise a national discussion about the importance of GMO labeling with groups and individuals across our country," Lancaster said. "None of this would have been possible without the support of my sponsors. Their commitment to truth in labeling mirrors my own."
The whole thing began with a chance encounter, Lancaster bumping into Orion Brutoco, the Brand Manager for Garlic Gold®, a California-based organic garlic products company. Lancaster had lived in a Zen monastery in Oregon for a while, worked on an organic farm in New Zealand, and had years of experience backpacking. He was considering his next moves.
The conversation turned to GMOs, since Garlic Gold® had gone through the lengthy organic certification process out of a commitment to eliminate pesticide use and provide healthy food. Casually, Lancaster told Brutoco he was considering backpacking across the United States, but had no funds for the journey. Brutoco replied, "How about I arrange sponsorship, and you use your trip to raise awareness and educate about GMO labeling?" Lancaster said, "Absolutely!"
And so it happened. Brutoco arranged Garlic Gold® as the founding commercial sponsor, and obtained the additional support of two 501(c)(3) non-profits with similar interests: the Omega Point Institute, founded in 1981, and the World Business Academy, founded in 1986. Thus began the Walk2Know.
Lancaster left home and loved ones behind to set off from the legendary Santa Monica pier on foot on January 5. He marched down the iconic Route 66, crossing deserts, mountains, little towns and big ones, speaking at rallies along the way, spending nights under the stars or sometimes in a friendly home of someone he met through his flourishing social media following. He spoke with individuals and groups about GMO labeling, encountered TV crews, and made a host of new friends on Facebook, Instagram and Twitter. Lancaster's walk was also documented for inclusion in a feature length film about the issues surrounding GMO labeling.
The walk may be over, but not the fight. The House has passed the "DARK Act", and the Senate is expected to take it up next week.
Ventura, California based organic food company Garlic Gold® is celebrating Taylor Lancaster's successful transcontinental walk by offering a chance to win $250 in GMO-free toasted garlic condiments. Find the offer online at http://www.wingarlic.com.