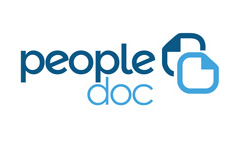 With PeopleDoc, we now have total control over our HR processes.
Las Vegas, NV (PRWEB) October 19, 2015
PeopleDoc, the leading provider of cloud-based human resources (HR) service delivery solutions, today announced that it is unveiling a major new release of its HR Service Delivery platform featuring advanced technology that enables intelligent, automated workflows through a significantly upgraded user interface designed for both desktop and mobile users. The new platform dramatically improves the overall employee experience. The company is showcasing its new platform at booth #2157 during the HR Technology Conference & Exposition at Mandalay Bay Hotel and Casino.
PeopleDoc's new technology facilitates intelligent workflows by automating HR processes, including task management, content distribution and onboarding. For example, employee communications, time-sensitive notifications and reminders can be easily scheduled and automated, and the automatic archival or destruction of digital employee files can be customized to specific corporate policies governing record retention. The new platform release provides significant time savings and improves the efficiency of HR operations.
"The acquisition of new firms brings new complexities when managing HR documents and processes," said Eileen Rupp, HR manager, New Penn Financial. "With PeopleDoc, we now have total control over our HR processes, and auditing for specific files takes minutes instead of days."
Onboarding new hires can now be expedited by dynamically pre-populating onboarding documents with new hire data, reducing the time it takes to complete the process from 45 minutes down to 10 minutes.
"The new technologies we've added to our platform completely transform HR workflows by empowering professionals with intelligent tools that automate processes from task and content distribution to onboarding," said Jonathan Benhamou, CEO and co-founder of PeopleDoc. "We have improved the experience for employees as well, with upgrades to our highly intuitive user interface that make access from a smartphone, iPad or any mobile device simple and easy, integrating HR into employee lifestyles and enhancing the overall employee experience."
PeopleDoc customers include American Express, Fast Retailing, Georgetown University, Match.com and Paychex, among many others. The company has also established strong partnerships with ADP, SAP SuccessFactors and Workday.
About PeopleDoc
PeopleDoc empowers employees to simply and easily access relevant HR information from hire to retire, bringing greater value and capacity to the HR function within corporate enterprises. Named by Gartner as a Cool Vendor in Human Capital Management in 2014, PeopleDoc's cloud-based HR service delivery solution increases productivity and improves employee loyalty.
With offices in the U.S. and Europe, PeopleDoc services more than 400 customers globally. The company is backed by Eurazeo and Accel Partners. For more information, visit people-doc.com or follow us on Twitter or LinkedIn.