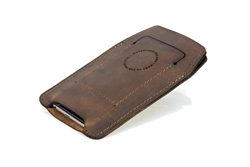 We created the Orbit case with a clip that swivels around so I can re-position it for comfort when I sit.
San Francisco, CA (PRWEB) September 09, 2015
WaterField Designs, an innovative leader in custom laptop sleeves, bags and cases for digital-minded professionals, announces the leather Orbit iPhone case for the new iPhone 6s and 6s Plus. Made from naturally-tanned, premium leather, the Orbit iPhone Case is lined with supple Ultrasuede® and holsters onto belts, pants, or straps with a 360 degree-rotating, removable clip. A slim front pocket holds a frequently-used card or two. The Orbit's sleek, rugged good looks complements jeans, slacks, or suits.
"With the bigger iPhones, our challenge was to design a case to keep the iPhone close by but inconspicuous," explained Gary Waterfield, company owner. "We created the Orbit case with a clip that swivels around so I can re-position it for comfort when I sit. When I want to use it as a sleeve within my briefcase, I can carefully slide the clip out of its leather holder. The Orbit case is nice and thin and keeps my iPhone consistently within reach."
The Orbit iPhone case—with its clean lines in full-grain, naturally-tanned black, chocolate or grizzly leather—is an elegant and practical accessory for iPhone users. The optional clip rotates easily for convenience and slides into an opening on the case so that it can be removed—for those wishing to use the Orbit case as a simple sleeve. A bottom opening allows users to keep ear buds attached to the phone at any time. On the front of the case, a thin slit creates a pocket for an oft-used card such as a commuter pass or electronic key card. Inside panels are lined with scratch-free Ultrasuede®, which adds cushioning and helps clean the iPhone screen as users insert and remove it from the Orbit.
WaterField Designs offers additional iPhone 6s and 6s Plus cases to address a range of style and functionality preferences: the minimalist iPhone Suede Jacket (link to collections), the Finn Wallet, the iPhone Spinn (for iPhone 5 and 6), and the Cycling Ride Pouch. Tomorrow WaterField will unveil its four custom-fitted cases for the iPad Pro.
Availability & Pricing
The iPhone Orbit
Price: $49. With clip: $59.
Sizes: iPhone 6s, iPhone 6s Plus. Two sizes for each phone model—one for the 'naked' iPhone and one for the iPhone within a thin bumper-style case.
Colors and materials: black, chocolate or grizzly, full-grain, naturally-tanned leather. Rugged, reinforced plastic rotating clip.
Dimensions: 6s naked—3.7 X 5.75. 6s with case—3.85 X 5.85. 6+s naked—4.125 X 6.5. 6+s with case—4.4 x 6.7.
Options: With or without clip.
Available for pre-order at the WaterField online store.
Shipping begins one and a half weeks after Apple ship date.
About WaterField Designs WaterField Designs manufactures custom-fitted cases and bags for a full-range of laptop computers, tablets, smartphones, e-readers, gaming devices, and other digital gear. All products are manufactured to exacting standards entirely in San Francisco. More information is available at the company website under "Our Story."