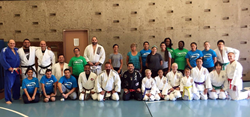 If you have a positive attitude and constantly strive to give your best effort, eventually you will overcome your immediate problems and find you are ready for greater challenges...Pat Riley
Redmond, WA (PRWEB) October 20, 2015
Dr. Aaron Moffett, Professor of Kinesiology at CSUSB and creator of the Festival, says, "Judo is a welcomed addition to the slate of activities planned once again for the 2015 Festival." He goes on to say, "Most disabled individuals might not consider introductions to Judo, but from the 2014 Festival feedback, Judo needed to be included in the venue and the Blind Judo Foundation came through once again."
The Blind Judo Foundation reached out to two top level coaches, Senseis Walter Dean and Gary Goltz, to accept responsibility representing their own Dojos and the Foundation at the October 3, 2015, event. Sensei Walter Dean is an International Blind Sports Association (IBSA) Delegate for the Pan Americas representing the Judo Committee of IBSA for North and South America and all islands within that area.
"We have a great team and without everyone it would not be possible," says Sensei Dean. "Most important are the athletes. I was pleased to see a few 2014 (attendees) returning from last year" Dean continues.
Sensei Gary Goltz is also a well-known name and figure in the Judo world, along with his work and leadership in the USJA (US Judo Association) as a positive proponents in the Judo world. Both coaches had students of their representative Dojos travel to San Bernardino to help support the Festival and to be on the mat working with the attendees. He said, "My students had a great time. They really enjoyed working with the folks on the mat and found it very exciting and rewarding."
Jovany Varela, one of the trainers said, "This is my third year in a row that I've gone [to the Festival] and as always it was great to be able to help." Varela goes on to say "I am looking forward to next year already."
Pedro Villa, an Instructor from the Riverside Youth Judo Club, brought three young men with Autism to show them they can empower themselves by helping others employing the sport of Judo. Villa goes on to say, "The lessons learned through Judo has helped these three men immensely, and they would not be where they are today without Judo." Villa continues, "One of these young men recently started going to junior college, which was facilitated by a scholarship he got from the Club. His attitude has improved greatly through the idea of mutual welfare and benefits Judo teaches."
Howard Brodwin, Principal of Sports and Social Change is an Associate of the Blind Judo Foundation, who 5 years ago established a relationship with the DisAbility Sports Festival management, thereby bringing blind Judo as one of the multiple sports being offered at the 2015 Festival.
About us:
The Blind Judo Foundation is a nonprofit 501(c) (3) organization that introduces and trains blind and visually impaired children, young adults and returning blind and visually impaired military men and women in the sport of Judo. Supporting our blind athletes to train, travel and compete relies upon tax-exempt donations.
All members of the Blind Judo Foundation are volunteers. A select few of our elite athletes go on to represent the USA as members of the US Paralympic (not to be confused with Special Olympics) Judo Team. Check out the Foundation and our Facebook page at http://www.facebook.com/BlindJudoFoundation or by contacting Ron C. Peck at roncpeck(at)blindjudofoundation(dot)org and 1-425-444-8256 or Coach Willy Cahill at dawave1(at)sbcglobal(dot)net and 1-650-589-0724