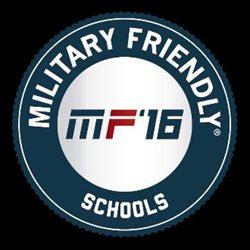 Pittsburgh, PA (PRWEB) July 14, 2015
Victory Media announced today the opening of its 2016 Military Friendly® Schools survey assessment for colleges, universities, online programs, community colleges and trade schools. Military Friendly® ratings have provided service members and their families with information about post-military education and career opportunities for more than a decade.
The seventh annual Military Friendly® Schools list will be derived from responses in this year's survey to over 100 questions in categories such as Veterans Support on Campus, Military Spouse Policies and Employment Outcomes. Victory Media and its independent advisory board identify the survey categories critical to supporting the veteran community. Submitted responses are scored through an automated survey platform and become a component of the Military Friendly® Schools ratings. Overall ratings are based on publicly available institutional data, voluntary data and reviews provided by student veterans, and proprietary data gathered through the voluntary Military Friendly® Schools survey.
By participating in the Military Friendly® Schools survey, colleges are able to incorporate the most current, unique data about their school that is not captured elsewhere, giving service members and their families a well-rounded look at their education programs.
Up to 400,000 service members, including Reservists and members of the Guard, leave military service each year; more than a third attend college after separation. The Guide to Military Friendly® Schools is distributed for free in all military transition classes, as well as throughout U.S. military bases and communities across the globe, reaching hundreds of thousands of transitioning service members, veterans, military spouses, and military transition program managers each month—individuals who know and trust the tested Military Friendly® name.
Schools completing the 2016 Military Friendly® Schools survey have an opportunity to not only assess how they stack up against other institutions, but to understand how they can set themselves apart. That may be in the area(s) where a school performs the strongest, or the areas in which the school can make significant improvements by implementing leading practices.
Schools may request their free survey link at http://www.militaryfriendly.com/startsurvey. More information about the Military Friendly® ratings for schools and employers can be found on http://www.militaryfriendly.com.
+ + +
About Military Friendly®
The Military Friendly® Schools designation process includes extensive research and a data-driven survey of more than 8,000 schools nationwide approved for GI Bill funding. The school survey, methodology, criteria and weightings are developed with the assistance of an independent advisory board of educators and employers, and independently tested by Ernst & Young LLP based upon the weightings and methodology established by Victory Media. The survey is administered for free and is open to all post-secondary schools that wish to participate. Criteria for consideration can be found at: http://www.militaryfriendly.com.
# # #
About Victory Media:
Based in Pittsburgh, Victory Media is a service-disabled, veteran-owned small business that connects classrooms to careers for the nation's next generation of professionals. Our data-driven ratings are published in, G.I. Jobs®, Military Spouse, Vetrepreneur® and STEM JobsSM media, and featured in national media including USA Today, Wall Street Journal, FORTUNE, Bloomberg, NBC, ABC, CBS, CNN, CNBC, Fox News and others. Learn more about our Media, Training and Ratings solutions at http://www.victorymedia.com, and follow us on LinkedIn, Facebook, Twitter, and YouTube.
For further information or to arrange interviews, contact:
Barbara Pflughaupt, BP Media Relations, at 212-707-8181