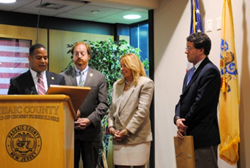 Our commitment to the betterment of county residents' lives is an important driver in everything we do
Little Falls, NJ (PRWEB) May 22, 2015
Schumacher Chevrolet Auto Group was presented with the Passaic County Business Appreciation Award by the Passaic County Board of Chosen Freeholders on Tuesday, May 12, 2015. The Freeholders presented proclamations to company president Judith Schumacher-Tilton, and her son, Stephen Tilton, Jr., CFO recognizing their numerous contributions to the business community as well as their charitable and civic work. The Schumacher Chevrolet Auto Group is New Jersey's largest volume Chevrolet dealer, with three locations in Clifton, Little Falls and Denville. The Tiltons are also co-founders of Give the Kids Hope Foundation, Inc., a nonprofit organization dedicated to providing recreational and educational opportunities to underprivileged children in northern New Jersey.
"Stephen and I are honored to be recognized both personally and professionally by the Passaic County Board of Chosen Freeholders," said Schumacher-Tilton. "Our commitment to the betterment of county residents' lives is an important driver in everything we do, through our dealerships and in our communities." Schumacher Chevrolet sponsors various community service and outreach events throughout the year.
Schumacher-Tilton serves as chairman of the Women's Dealer Advisory Council and is a member of the Tri-State Chevrolet LMA Board. She has earned many honors from the automotive industry and General Motors; these include the coveted Northeast Regional TIME Dealer of the Year and the Women's Choice Award by WomenCertified Inc. for delivering outstanding female-friendly customer experiences in her dealerships. Among their honors, the dealerships have won GM's Genuine Leader Award and the Women's Retail Network Performance Award. In addition to her many industry accolades noted in the proclamation, Schumacher-Tilton was also cited for her many business awards in recent years as well as her extensive civic work in northern New Jersey.
Stephen Tilton, Jr. was lauded for his deep commitment to helping underprivileged children through Give the Kids Hope Foundation. The foundation's fundraising efforts to date have in large part focused on Passaic County's Camp Hope in West Milford. Tilton's accomplishments that uplift the lives of disadvantaged children who attend the camp are detailed on the proclamation. These include the many physical and infrastructure improvements at the campgrounds and the dedication of the David Harris Sneaker Shack, named for the New York Jets football star who became involved through Tilton's efforts with Give the Kids Hope several years ago. Harris serves as foundation spokesman and headlines its charitable annual golf outing, which was on May 14 this year
For more information visit http://www.schumacherchevy.com.
###
About Schumacher Chevrolet Auto Group
Schumacher Chevrolet Auto Group owns and operates Schumacher Chevrolet in Clifton, Little Falls and Denville, N.J. and is the largest volume Chevrolet dealership in the state. At the helm of Schumacher Chevrolet Auto Group are President and Dealer Principal Judith Schumacher-Tilton and her son, CFO Stephen Tilton, Jr. Their foundation, Give the Kids Hope (http://GiveTheKidsHope.org) is a 501C3 non-profit organization dedicated to helping underprivileged children in northern New Jersey.