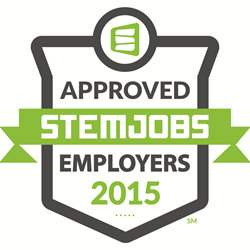 "STEM JobsSM Approved Employers is the first of its kind in helping job candidates, students, parents and counselors assess how employers are responding to the STEM skills gap and how education translates into real-world jobs." ~ Daniel Nichols, president
Pittsburgh, PA (PRWEB) May 05, 2015
Victory Media, the leader in connecting professionals in transition with viable education and career opportunities, today announced its inaugural list of 2015-2016 STEM JobsSM Approved Employers. The 2015 STEM Jobs Approved EmployersSM list is the first of its kind to rate companies on their responsiveness to creating and filling high-demand, high-growth STEM occupations. All STEM Jobs Approved EmployersSM are featured in the Spring 2015 issue of STEM Jobs magazine, with special recognition for the Top 25 STEM Jobs Approved EmployersSM, including this year's top-ranked employer, BP. The complete list is available at stemjobs.com (http://stemjobs.com/2015-stem-jobs-approved-employers/).
"The 2015-2016 STEM Jobs Approved Employers list is first of its kind in helping job candidates, students, parents and counselors assess how employers are responding to the STEM skills gap and how education translates into real-world jobs," said Daniel Nichols, president of STEM Jobs. "We're pleased to showcase companies that are leading the way in providing long-term STEM jobs and career opportunities."
Companies that submitted surveys were scored on publicly available data and responses to proprietary questions around three key indicators of success: STEM hiring practices and career path opportunities, workforce diversity in STEM positions, and outreach to and alignment with STEM education programs. The survey assessment was free, and rights to the STEM Jobs Approved EmployersSM designation were made available to qualifying companies for no cost.
"BP is committed to playing a leading role in securing America's energy future," said Ray Dempsey, vice president, external affairs at BP America. "We know this will require cutting-edge innovation from the minds of America's brightest scientists and engineers, and that's why for more than 60 years, BP has supported STEM education. We plan to continue doing our part to prepare students for the jobs of tomorrow."
According to the U.S. Bureau of Labor Statistics, there were more than 8.3 million STEM jobs in the U.S. as of May 2014. In December, The Wall Street Journal reported the number one priority for today's CEOs as developing the "21st Century workforce," calling for employers to partner with educators to engage students and our future workers in STEM curricular activities and to improve focus on STEM and technical training.
For additional information about STEM JobsSM visit stemjobs.com, or to request a free survey assessment contact Victory Media at victorymedia.com/contact-us.
# # #
About STEM Jobs (SM)
The STEM JobsSM Approved Employers survey measures how effectively companies produce high-demand, high-paying STEM jobs, and how well they connect with educators to help students pursue and achieve career aspirations in STEM fields. Ratings are based on a complimentary and rigorous quantitative assessment that measures companies on criteria created by Victory Media with the assistance of an independent Advisory Board. A complete description is available http://www.stemjobs.com.
About Victory Media
Founded in 2001, Victory Media is a workforce development firm specializing in connecting classrooms to careers and helping professionals in transition. The company is the creator of STEM JobsSM media, classroom and career resources for students and K-12 educators of science, technology, engineering and math. In addition, Victory Media produces media and training solutions used by Fortune 1000 firms, colleges and school districts nationwide. Its media brands include STEM JobsSM, G.I. Jobs®, Military Friendly®, Military Spouse and Vetrepreneur®. Learn more about Victory Media's solutions at http://www.victorymedia.com. For more information visit STEMJobs.com.
About BP America
Over the past 10 years, BP has invested more than $90 billion in the U.S. – more than any other energy company. BP is a leading producer of oil and gas and produces enough energy annually to light nearly the entire country for a year. Employing around 18,000 people in all 50 states, BP supports nearly 200,000 additional jobs through all of its business activities. For more information, go to http://www.bp.com/us.
For more information or to arrange interviews, contact Barbara Pflughaupt, BP Media Relations, LLC, at 212-707-8181, Gabrielle Torello at 917-312-2832, or Austin Staton, BP America, at 713-323-1519.