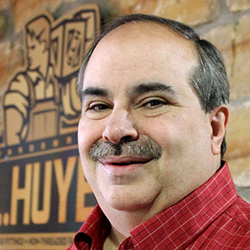 Minneapolis, Kansas (PRWEB) January 22, 2016
G.L. Huyett proudly announces the addition of Larry Kucera as Regional Sales Manager in the Greater Chicago area. Kucera previously served as a Regional Sales Manager for Advanced Components, Distribution Sales Manager for A Raymond Tinnerman, and Director of Sales and Marketing for Richco/Filtrona.
Kucera will join Dan Harriger, G.L. Huyett's Vice President of Sales, and a seasoned team of professionals, to offer fastener distributors and industrial distribution channels an unprecedented value proposition and product selection. In addition to managing and strengthening existing partnerships, Kucera will work to identify and build new customer relationships while providing knowledgeable sales support.
"With the addition of Larry Kucera, our Sales Team possesses over 50 years' experience in Tinnerman products and engineered fasteners, and compliments
G.L. Huyett's existing engineering experience as an ISO 9001 certified manufacturer, master distributor, and importer of non-threaded fasteners and grease fittings," said Harriger. "We are excited to have him on our team."
G.L. Huyett's CEO, Tim O'Keeffe adds, "We have worked hard to create an organizational culture aligned to excellence and professional development. I am pleased to see our hard work validated through recent additions to our Sales Team."
To contact Larry Kucera, call 331-431-3030, e-mail lkucera(at)huyett(dot)com, or visit http://www.huyett.com.