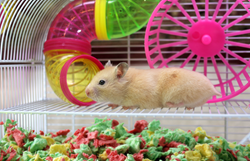 "Providing high quality small animal products at an affordable price is a top priority. carefresh is happy to partner with PetSmart to launch new carefresh colorful creations bedding for the care, customization and fun for small animal pet owners."
Ferndale, WA (PRWEB) November 16, 2016
Healthy Pet® continues to be the leader in creating sustainable, innovative products for the small animal category, and has recently partnered with PetSmart to launch an exclusive program called carefresh® colorful creations.
Answering the demand from their consumers to create more interaction with small pets and their living space, this new line of six vibrant bedding colors (including a special mix of red and green for Holiday 2016) that can be mixed to create unique blends, match room décor, support a favorite team or used to create designs and themes.
Healthy Pet surveyed hundreds of small animal parents, and most voiced a desire for more options to change up their pets' habitats and make them fun to look at. "I like to switch things up once in a while with my hamsters' habitats and this is a fun option at an affordable price for a product I stand by. carefresh® is my number one small pet bedding choice and I highly recommend it to other small pet owners," said one survey participant.
Available exclusively at PetSmart stores nationwide, carefresh® is the only small bedding brand to offer this rainbow of color options for small pet parents. Consumers will see the same uncontested quality and performance they expect from carefresh® with colorful creations' superior odor control, incredible absorbency and virtually dust-free materials. carefresh® is devoted to the health of small pets and the planet, which is why colorful creations is also 100% biodegradable, compostable and made from sustainable materials. "Continuing to provide high quality small animal products that our consumers need and want at an affordable price is a top priority for us. We are happy to partner with PetSmart in the launch of colorful creations bedding, and are seeing some really fun ways this new program is coming to life with small animal consumers," said Jane Wasley, Brand Manager at Healthy Pet.
For more information, please visit us at http://www.carefresh.com.
About Healthy Pet®
Healthy Pet®, founded as Absorption Corp over 25 years ago, is proud to offer natural bedding, food and litters that allow pets to live WHOLLY INCREDIBLE™ lives.