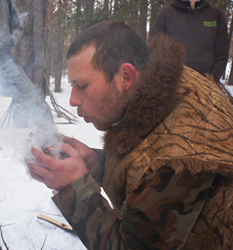 It is our goal to offer life-changing nature & survival adventures that give people more confidence outdoors, and in their lives
Ithaca, New York (PRWEB) January 25, 2016
Cornell Cooperative Extension of Tompkins County announces the "Wilderness Year" nine-month outdoor leadership program offered by its nature and wilderness skills program leader, Primitive Pursuits. This new course will build upon the adult leadership training Primitive Pursuits has been conducting for the past six years. The first Wilderness Year will commence September, 2016.
Wilderness Year is designed to reconnect aspiring individuals and educators with their local bio-region and with a community of people dedicated to fostering nature connection in the world. Graduates will have a unique set of skills in wilderness living and survival, and in the arts of outdoor leadership, personal development and community building.
Primitive Pursuits is nationally distinguished in the movement to establish nature-based learning opportunities in a wide variety of settings. The skills offered foster a deep awareness and connection with the natural world and are increasing in demand within this growing outdoor education industry.
"Our month-long training course (the Wilderness Skills Intensive) is a great introduction to wilderness skills, nature connection and community building" says Primitive Pursuits Program Director, John Chilkotowsky. "Many graduates have gone on to be highly effective instructors for youth-focused organizations including our own. But we have a deeper level of knowledge, experience and adventure to share", Chilkotowsky continued. "This extended program will attract a more national audience and will allow students to grow into stronger leaders who can bring their own visions powerfully into the world as educators, mentors and community-leaders."
An important development which enables this new offering is the use of Cornell University's Arnot Field Campus, a 4200 acre property featuring hardwood forest, grasslands, ponds and streams. Since the 1910's this property has had a rich history of serving Cornell University and the surrounding region. For Primitive Pursuits, the land provides an ideal place for extended overnight camps and trainings. With a cabin capacity of 25 overnight guests in the winter and nearly 100 in the summer, a commercial kitchen and lodge that can seat 100 people, CCE-TC and Primitive Pursuits are now able to significantly expand on educational offerings.
Pursuits Pursuits staff members are known for bringing an infectious enthusiasm and a patient, thoughtful passion to their work. Senior Instructor Justin Sutera will be leading Wilderness Year along with an all-star team of guest instructors including Corinne Eisenman, Jed Jordan, Dave Hall, Tim Drake, Jason Hamilton and Bob Berg.
As a result of the program students should expect to:

Feel extremely confident and self-sufficient in wilderness settings
Gain the skills needed to become a wilderness leader, or start an educational program
Have a increased sense of curiosity about nature & life
Feel a greater sense of belonging both in nature, and in their world
"It is our goal to offer life-changing nature & survival adventures that give people more confidence outdoors, and in their lives" says Field Team Leader, Corinne Eisenman. "The Wilderness Year curriculum draws from many traditions and teachings, and creates a landscape for students to know themselves, each other and their connection to the natural world in an extraordinary way. Our instructors will challenge participants with wilderness-based experiences that engaging their hands, heads, and hearts for an integrated understanding of the old ways and of how relevant they can be to us today."
Wilderness Year is ideal for those seeking to make experiential adventures a daily practice, those wanting a deep immersion into local ecological knowledge and anyone looking to survive and thrive in the natural world. It's an excellent companion education for a related degree program, or for anyone wanting to expand their experience and capabilities as an educator or mentor.
Find more information about the program and application process at primitivepursuits.com/wilderness-year.
Primitive Pursuits is a non-profit program of the Cornell Cooperative Extension of Tompkins County & Tompkins County 4-H Youth Development. Primitive Pursuits has been offering leading-edge year-round outdoor education to youth and adults for over fifteen years.