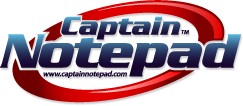 You get the same great quality and design as you would normally expect from Captain Notepad. And we keep our pricing competitive, so you won't be overcharged for any services
(PRWEB) December 14, 2016
Captain Notepad (http://www.captainnotepad.com), a producer of image personalized calendars, custom notepads, magnetic notepads, and other promotional items, today released its annual Year in Review for 2016. Captain Notepad has continued to see significant year over year growth. Highlights from this year include new product designs for promotional calendars, new equipment, and an increase in sales.
The Coloring Notepad is part of the latest trend of coloring for adults. Clients will love doodling and coloring on these fun and customized notepads. "You get the same great logo placement and contact information that you would normally get on your custom notepad printing," notes Jace Rogat, President at Captain Notepad. He continues, "But this new notepad is something new that your clients haven't seen before. It will sure to be a notepad staple in any household."
Through popular demand, Captain Notepad is now offering the Daily Task List as a great option for a custom notepad. The notepads allow customers to keep track of their to do's/daily tasks hour by hour.
Captain Notepad announce the roll out of its new digital printer earlier this year. Customers could order customized notepads in half the time. "It's now easier than ever to get the custom notepad you want in less time, notes Jace Rogat, President at Captain Notepad." He continues, "You get the same great quality and design as you would normally expect from Captain Notepad. And we keep our pricing competitive, so you won't be overcharged for any services, compared to some of our competitors." The difference between what Captain Notepad is offering through digital printings vs offset printing includes a shorter turnaround time, low quantity orders, and select styles of customized notepads. "We've made sure that our customers still get a variety of customized notepads to choose from, just like our offset printing," says Jace Rogat.
"It's thrilling to see our small business have have continued success. Our product line has increased and the option for personalization has become more accessible for all of our clients," adds Jace Rogat, President at Captain Notepad. He continues, "We can't wait to see what's in store for Captain Notepad in 2017, follow us on our journey at http://www.captainnotepad.com."
About Captain Notepad (https://www.captainnotepad.com)
Captain Notepad is the leading manufacturer of customized notepads and promotional items specializing in creative solutions to help brand a company's product and grow their business. Through competitive prices and great customer service, Captain Notepad has become the best source for custom notepads. What sets Captain Notepad apart is the short production time including rush production on most of the custom printed notepads.