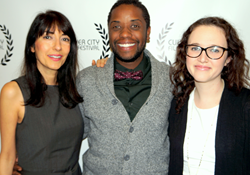 I am so fortunate to have such a devoted and highly skilled team, including CSUN experts who spoke about the many struggles of sexual minorities.
Los Angeles, California (PRWEB) December 31, 2015
LGBT UNITED, a feature documentary on the struggles and resilience of sexual minorities, is faring well at film festivals. So far, it has won Best Documentary at the 2015 BACK IN THE BOX COMPETITION, the Silver Award for Best Documentary Feature at the 2015 INTERNATIONAL INDEPENDENT FILM AWARDS, and the Award of Recognition for Best LGBT Film at the 2015 INDIE FEST FILM AWARDS.
"I am so fortunate to have such a devoted and highly skilled team, including CSUN experts who spoke about the many struggles of sexual minorities," shared Dr. Lagana. The team is looking forward to landing a distribution deal for this movie.
Kelcey Sholl, the movie's assistant director, is excited about the potential for a positive impact of this movie on the general public. "Working on this film has been a great experience. Being an assistant director was something very new to me. It has been so rewarding to hear the stories and perspectives of some truly amazing, intelligent, insightful, and resilient individuals. I hope these stories will help young adults experiencing these struggles that are so common within the LGBT community. I also hope this film will bring about acceptance and understanding in the hearts of individuals who hold a negative disposition towards those in the LGBT community. Part of the goal was to show that we are all one, we are all the same and we all deserve love. I can't wait to see the results once this film is used in my experimental thesis," she stated.
Nikki Kahl, the very talented and creative director of photography and editor, commented that "through filming and editing LGBT United I learned what it means to be LGBT in America. Their stories illustrated a different world than the one I had been living in. I was appalled to hear that they had ever been treated as less than human because of something so trivial as their sexual orientation or gender identity. We were all born from stardust, from the same energy that creates this world, and we're made from the same molecules as anyone else. It is beyond me that people think they're entitled to be judgmental, rude, and emotionally or physically violent. Every person deserves to be treated with love and respect, and what these souls have had to deal with is absolutely unacceptable to me. Before the documentary was finished, I was completely behind the cause, and am proud to use my talents to give these wonderful people a voice."
"I am very fortunate to have been 'passable' even before I began HRT. I was able to blend in very easily with my heterosexual counterparts and was told that this was a good thing by many people who loved me. It made sense to 'pass'. As the years went on and trans people kept dying I began to feel guilty about 'passing'. The death of Leelah Alcorn hit home for me and I could no longer hide. People need to know that we are human and deserve to be treated as such. Being a part of this documentary is important because in 2015 people still believe that you can 'catch gay', concluded Cayes Jarda.
Written by Stefanie Friesen
Luciana Lagana is a caring clinical and experimental psychologist. She is also an established professor of psychology, gerontology, sexuality, and women's health at CSUN, where she teaches classes and mentors many undergraduate and graduate students. Additionally, since 2002, she has been conducting government-funded research on ethnically diverse, primarily low-income older women's physical, psychological, social, and sexual health. Concerning her artistic pursuits, since 2006, she has been studying acting, TV hosting, and filmmaking in Los Angeles. She is an award-winning actor/screenwriter/director/producer with 44 IMDb acting credits for appearing in many independent movies, web series, and TV pilots. She also wrote, hosted, and directed the award-winning web series "Intimate Temp Agency," as well as "Dr. Luciana Show – Aging and Falling," the winner of many film festival awards, including best educational show at the 2015 Houston Film Festival.