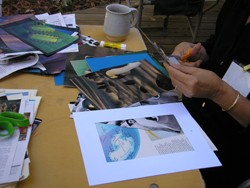 Knowing oneself is a key to change, and this workshop is perfectly timed to allow New Year's reflections.
Santa Fe, NM (PRWEB) January 01, 2016
January is when many people resolve to make changes in their lives. They reflect on the good, and on facets of their life that they would like to change. This period of growth is the perfect time to embark on a deeper exploration of the self. SoulCollage uses creativity to help participants uncover truths within themselves. SoulCollage is an internationally acclaimed and celebrated experience which guides attendees through the process of creating a set of cards utilizing images from a range of sources, and Santa Fe Art Classes will present a workshop on Saturday January 16th, from 10AM- 12PM.
"Art has many benefits, including that of self-discovery," says Robbi Firestone, founder of Santa Fe Art Classes. "My mission is to inspire and empower women to unleash freedom through creativity in their lives. Soul Collage helps us explore our hearts desires, and gives us the tools for continual exploration! SoulCollage is a powerful, soulful experience I'm excited to offer to Santa Fe, New Mexico."
Participants will create SoulCollage cards that reflect their unique personalities. Each will be led through a series of questions, meditations and imagery that will allow them to discover the Neters/Egos that are inherent in everybody, both good and bad. They will also be given instructions on how to continue their journeys beyond the class and into their everyday lives.
"Knowing oneself is a key to change, and this workshop is perfectly timed to allow New Year's reflections. The intimate, personal knowledge gained from this class experience will help attendees discover more deeply who they are, and have a solid foundation for affecting continued change in their own lives," concludes Firestone.
Santa Fe Art Classes offers painting and journaling workshops that allow attendees to unleash their creative potential. Designed for beginners, Paint Moment courses offer a step-by-step process to creating a unique work based on a source image. Vision Board/Journaling focuses on using images, objects and words to explore unconscious desires and hidden dreams.
Browse upcoming workshops, schedule a private or corporate, team building session, and learn more at http://santafeartclasses.com/ or by calling (575) 404-1801.
Robbi Firestone is a fine artist, currently creating an installation piece titled Infertility Rosary which examines the dark shadows of femininity: infertility. It balances the cult of woman as creator while investigating shadows, strengths and biological lineage while using medical paraphernalia from Firestone's personal In Vitro-journey. It is on view while being constructed at her gallery. Firestone also paints oil portrait commissions including subjects; authors Michael Beckwith of bestselling book and film, The Secret, and Don Miguel Ruiz, author of The Four Agreements, Bart Millard of best-selling band MercyMe, and 4-time Grammy Winner, Keb'Mo. Learn more about Robbi Firestone's work at http://www.RobbiFirestone.com.
SoulCollage® cards are not to be sold, traded, or bartered; they are to be reproduced only for the personal use of the maker of the card. SoulCollage® cards may be shared as examples to illustrate the SoulCollage® process, but it is a principle of SoulCollage® that SoulCollage® cards are not for sale, trade, or barter. [from "The Principles of SoulCollage®]