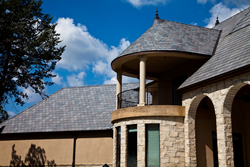 Lenexa, KS (PRWEB) January 05, 2016
Following another year of double-digit sales growth in 2015, leaders at DaVinci Roofscapes® give credit to Mother Nature for the continued success and acceptance of the company's polymer slate and shake roofing products.
"In 2015 we recreated all of our composite slate product profiles inspired by Mother Nature," says Mark Hansen, vice president of sales and marketing at DaVinci Roofscapes. "The results are an amazingly realistic quarried profile that people have to get up close to in order to determine they're not looking at real slate.
"Our synthetic Bellaforté Shake tiles were already created as an exact duplication of real wood shakes. Thanks to their authenticity, polymer shake roofing is our best selling product. With our slate line now perfectly replicating natural slate, we believe 2016 will be another strong year for our company."
New DaVinci EcoBlend® Roofing
Looking ahead to 2016, DaVinci Roofscapes plans to introduce four new DaVinci EcoBlend® cool family colors early in the year. The polymer roofing color options have all been approved by the Cool Roof Rating Council (CRRC) to reflect sunlight and heat away from a home or commercial structure, helping the building or home stay cooler in the summer and helping to lower energy costs. The new color blends all meet Title 24 requirements for California.
"The innovative EcoBlend colors give us greater potential in California," says Hansen. "This is a market our company already has strong presence in due to the fire resistance of our synthetic roofing products. Many insurance companies are refusing to insure homes with real wood shake roofs. Our polymer roofing products have the look of natural shake but with the highest fire rating available, giving peace-of-mind to homeowners and gaining the approval of insurance companies."
According to Hansen, Bellaforté Shake was the best-selling product manufactured by DaVinci Roofscapes in 2015 and continues to be a fast-growing product.
Roofs Sell Roofs
Hansen points out that growth of DaVinci products overall appears to come as a result of the acceptance and growing awareness of the company's polymer roofing.
"We always say that roofs sell roofs," says Hansen. "We seem to do the best in areas where we have had the longest presence. The more DaVinci roofs installed in a specific market, the more we sell there because people like what they see. We hear stories everyday about people stopping homeowners to ask what roofing product is on their home ... then they contact us about replacing their own roofs with DaVinci products."
According to Hansen, the availability of 50 standard color options is a selling point for many homeowners. "People like having the ability to create custom color blends for their roofs to complement their home exterior," says Hansen. "In 2015 we introduced Smokey Gray as our 50th color and it's been well received. In just a year Smokey Gray has become a core color for us and a major component in numerous custom color blends."
Low-maintenance slate tiles from DaVinci resist algae and moss growth, come in 50 standard colors and are rated for installation in areas experiencing high winds, hail and wildfires.
The experienced team members at DaVinci Roofscapes develop and manufacture industry-leading polymer slate and shake roofing systems with an authentic look and superior performance. DaVinci leads the industry in the greatest selection of colors, tile thickness and tile width variety. The company's reliable products have a limited lifetime warranty and are 100 percent recyclable. All DaVinci high-performing roofing products are proudly made in America where the company is a member of the National Association of Home Builders, the National Association of Roofing Contractors, the Cool Roof Rating Council and the U.S. Green Building Council. For information call 1-800-328-4624 or visit http://www.davinciroofscapes.com.