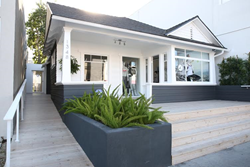 Our hope with this flagship is to be the forefront in fostering a community of encouragement, love, and inspiration.
Los Angeles, CA (PRWEB) January 05, 2016
Avocado, the new athleisure label known for their functional yet fashionable designs, officially opens their Venice, California flagship location store January 5, 2015. The store allowed curious holiday shoppers shopping on Abbott Kinney Boulevard to enter the store and purchase items in advance of the official opening due to the high foot traffic volume.
The 1,308 sq. ft store, which is situated within the trendy Abbot Kinney Blvd, is designed to offer multi-sensory experiences for its customers and communities, featuring an 1,100 sq. ft deck and exclusive products and services - the flagship is a dynamic and trendy new brand environment.
"The Venice community encompasses many of our brand's inspiration; from its Southern California vibes, proximity to the beach to its historical values as a leading fashion district in Southern California," said Ki Chung, General Manager. "Our hope with this flagship is to be the forefront in fostering a community of encouragement, love, and inspiration."
Avocado desires to inspire a healthy, active lifestyle while creating activewear of the highest quality and durability. The store will host its highly-anticipated debut collection comprising of three different groups: activewear, lifestyle and basics.
The store located on 1348 Abbott Kinney Blvd, Venice Beach, CA, will be open Monday- Saturday from 10am to 7pm and Sunday til 6pm. The announcement is being celebrated with an exclusive VIP press event this February, 2016.
For more information about Avocado please visit http://shopavocado.com/.
ABOUT AVOCADO
Originally conceived in late 2013 and launching in 2016 - AVOCADO is the exciting new athleisure collection that delivers the fashion, fit, functionality and affordability modern women need for their busy, healthy and wholesome lifestyles. The brand delivers vibrant designs manufactured with the highest standards of quality and using eco-friendly materials. Designed for superior comfort and functionality, each piece enhances style and performance while seamlessly becoming an essential component in anyone's fashion choices. The Avocado collection delivers the unbridled enthusiasm and optimism of its Southern California home to inspire women everywhere to discover their highest potentials.