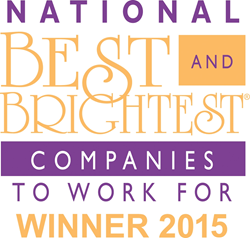 We credit our amazing team with the resulting success we have experienced with our customers, the growth of our business, and in the community.
Troy, MI (PRWEB) January 06, 2016
Billhighway is excited to accept the title of a National Best and Brightest Company to Work For, making it the fourth time in four years. The team contributes the win to challenging the status quo and traditional workplace standards. One example of shaking up the status quo would be addressing the Human Resources Team as "Team Member Success." This team focuses on building a strong culture and creating a high performing team by utilizing innovative human resource practices. The culture is driven by eight "Plays," which are core values that make up the foundation of every department, meeting, product, and team member.
One of the Plays, "Satisfaction Never" is a springboard to keeping a pulse on utilizing the best recruiting practices to bring in top-level talent as well as defining a strategy with the right mix of total rewards, training and development, community initiatives, and work-life balance to retain that talent.
Their recruiting process incorporates several personalized touch points, including:

Email confirmations with details about the interview team and what to expect during their visit
Personalized thank you notes immediately following the interview
A basket of Michigan snacks for candidates to enjoy
The Secret Sauce
One of the secrets to their recruiting success is taking extra time with three or more interviews to really get to know each person and provide a real-life experience for them during the final interview phase. This may include a case study presentation, a role-play scenario of a difficult customer interaction, or a half-day in their offices shadowing a position, thus giving candidates a firsthand look at a day-in-the-life of working at Billhighway. This provides both parties with the opportunity to see if it's a good culture and skillset fit.
Recognition
At Billhighway, everyone works to grow the business, and with hard work and results come rewards. Rewards takes shape as peer-to-peer recognition programs, celebrations for onboarding a new client or winning an industry award, or everyday fun with the annual Billhighway Olympics or Family Week celebrations!
One of the peer-to-peer recognition programs provides each Client Care team member with five Care Tokens worth $5.00 each that they may award to a fellow team member who has exhibited an extra level of "wow" in handling a difficult customer, situation, or delivering great training. These tokens may be traded in for gift cards or for a donation to a charity made in their name. Another program allows team members to vote for two of their fellow team members who they believe have been leaders in exhibiting the "Leadership Expected" Play each and every day, with the winners winning a trip to Money 2020 in Las Vegas with Billhighway's CEO.
Community
Billhighway strongly believes in supporting the local community and doing more good; it's one of the reasons they do what they do – empower organizations to invest more into their missions by automating their financial processes. They help support team members in this initiative by providing them with Charitable Volunteer Time to volunteer in the community for any non-profit they are passionate about. They also bring volunteer opportunities to the office and even take the time to support causes that are important to their clients. In the past, they've made an impact by donating:

1,500 peanut butter and jelly sandwiches for the homeless
Blankets for the Children's Hospital
Shoes for children in impoverished areas
Provided a family in a developing country with livestock to sustain themselves and their community
"We credit our amazing team with the resulting success we have experienced with our customers, the growth of our business, and in the community," said Brenda Gallick, who leads Team Member Success for Billhighway. "It is this commitment to support our team members both professionally and personally that allows us to build a high-performing organization. We are honored to be a four-time National Best and Brightest winner."
About Billhighway (http://www.billhighway.co)
Billhighway, headquartered in Troy, Michigan, develops cloud-based automation software that makes financial management simpler for multi-entity organizations. Since 1999, we've helped our clients free up internal resources and focus more time on their missions by increasing revenue, cash flow, and the bottom line. Through a robust, rules-based engine that integrates payment processing, banking, and accounting with existing systems, Billhighway provides a transparent, holistic view of your organization's finances so you can work smarter, not harder. Billhighway is recognized for award-winning customer service and industry-leading data security.
About the Best and Brightest Programs (http://www.101bestandbrightest.com)
The Best and Brightest Companies to Work For® competition identifies and honors organizations that display a commitment to excellence in operations and employee enrichment that lead to increased productivity and financial performance. This competition scores potential winners based on regional data of company performance and a set standard across the nation. This national program celebrates those companies that are making better business, creating richer lives, and building a stronger community as a whole. There are numerous regional celebrations throughout the country.
(###)