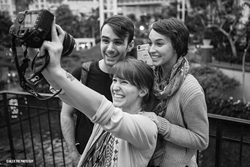 The largest annual convention and expo organized by pro photographers, for pro photographers.
Atlanta, Georgia (PRWEB) January 05, 2016
Who: More than 10,000 global professional photographers will descend upon Atlanta to learn from the best in the photography business at Professional Photographers of America's Imaging USA 2016 annual convention and tradeshow. Convention attendees and the public can attend – at no cost – the Imaging Expo with 600+ exhibitors, product demos and prize giveaways and also the International Photographic Exhibit which is the largest photographic exhibit in the South.
In addition, Paralympic medalist/motivational speaker/New York Times best-selling author and Dancing With The Stars runner-up Amy Purdy will give an inspirational keynote to kick-off the event at 10a.m. on Sunday, Jan. 10.
What: Anyone interested in attending can apply online for a Free Imaging Expo Pass at: ImagingUSA.org/FreeExpo.
When: Sunday, Jan. 10 – Tuesday, Jan. 12, 2016
Show Hours: Sunday & Monday: 11:30 am-5:00 pm, Tuesday 11:30 am-3:30 pm.
Where: Georgia World Congress Center, Bldg. A
285 Andrew Young International Blvd., NW
Atlanta, GA
NOTE TO MEDIA: Amy Purdy will be available for interviews onsite after her book signing at 11:30 a.m. on Sunday, Jan. 10.
About PPA
Professional Photographers of America (PPA) is the largest international non-profit association created by professional photographers, for professional photographers. Almost as long-lived as photography itself, PPA's roots date back to 1869. More than 28,500 photographers belong to PPA as it helps them be more successful through protection, education and resources. See how PPA backs its members and helps them Be More at PPA.com/BeMore.