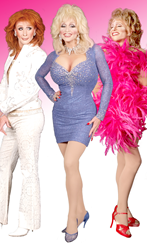 This show is a must-see as part of the Palm Springs resort experience and for anyone who embraces great entertainment and the art of impersonation
Palm Springs, California (PRWEB) January 05, 2016
Amazing entertainment continues at Carnival Cabaret, the acclaimed female celebrity impersonation dinner show celebrating its one year anniversary at Oscar's Café & Bar. After nearly 200 shows this past year, Carnival Cabaret will continue to delight Palm Springs area visitors and locals during 2016 with show-stopping performances every Thursday through Saturday night and a brunch matinee on Sunday.
"We are extremely pleased with the success of Carnival Cabaret which captures the hearts of audiences as they are mesmerized by a talented cast of actors who bring to life female legends," said Dan Gore, producer of Carnival Cabaret. "This show is a must-see as part of the Palm Springs resort experience and for anyone who embraces great entertainment and the art of impersonation."
Guests are hypnotized by the likenesses of Dolly Parton, Cher, Lady Gaga, Judy Garland, Whitney Houston, Jennifer Lopez and more. A professional ensemble, featuring Cee Cee Russell, Kevin Wiley-Cincotta, Jay Sanchez and Alfie Pettit, captures the essence of each legend during every show which is a memorable journey through the music world's leading ladies of the past and present. Special guest appearances by other nationally recognized impersonators will occur throughout the year.
Hosted by world-famous film, television and Broadway veteran comedian and actor James "Gypsy" Haake, Carnival Cabaret reaches new heights of hilarity each week. The 83 year-old master of ceremonies holds the Guinness World Record as the oldest working female impersonator.
As part of the Las Vegas-style show experience, guests can enjoy a delicious menu of popular selections from steaks and seafood to pastas and salads. A full-bar is available.
Carnival Cabaret just completed an interior renovation with new lighting, a stage expansion and other decor enhancements. The updated 120-seat venue now offers a more intimate dining and show experience.
The show is scheduled for every Thursday, Friday and Saturday at 7 p.m. with dinner available starting at 5 p.m. The Champagne Sunday Matinee begins at 1 p.m. with brunch available starting at 11:30 a.m. Reservations are recommended by calling 301-691-5407 or by visiting carnivalcabaret.com.
About Carnival Cabaret
The art of female celebrity impersonation is at its best at the acclaimed Carnival Cabaret in Palm Springs, California. Three nights a week, Thursday through Saturday and every Sunday afternoon, seasoned actors amaze audiences with their stunning portrayals of past and present female legends such as Dolly Parton, Reba McEntire, Cher, Dionne Warwick, Judy Garland, Lady Gaga, Whitney Houston and more. The show is at Oscar's Café & Bar, 125 E. Tahquitz Canyon Way. For more information and reservations, please visit carnivalcabaret.com.