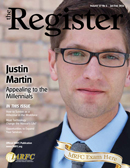 I hope that my viewpoints as a member of a younger generation can help the IARFC find a way to better tap into our generation as the future financial consultants....Justin Martin
Middletown, OH (PRWEB) January 06, 2016
While much of the focus in on the "Baby Boomer" generation and their retirement issues, Justin markets to a younger technology savvy group.
"They face different problems in their generation," he said, "but still have the need to properly manage their financial goals and dreams."
With a financial consultant as a father, Justin grew up doing what his parents thought best – working. "My parents instilled values in us that have proved to be very helpful, especially now as I am building my own business and career."
Currently Justin works as a wealth strategist with Paradigm Life specializing in the Cash Flow Banking Concept through Life Insurance. Technology has dramatically changed the way he does business in the office. Almost 100% of his client meetings take place via webcam and virtual conference. It builds a good relationship virtually while allowing his clients to be comfortable in their own home.
Top concerns for the younger generation when developing a financial plan are somewhat different than the "Over 40" clientele: increasing college debt, over reliance on a 401(k) to provide retirement security, getting stuck in investing and diversifying in the market. "Our generation needs to think outside the box," explains Justin. "We can't get bogged down in traditional rhetoric."
As a member of the IARFC he is appreciative of the vast amount of experience and knowledge of the membership. To move the organization to a more online presence, Justin would like to see the Association provide training and messages as a series of YouTube clips or Vlogs. Or, virtual summits where consultants can come together online to share best practices and ideas.
To give back to the IARFC, Justin is on the Master Registered Financial Consultant (MRFC) Board, created to oversee the process towards a 3rd party accredited designation. He puts his energies toward helping the IARFC find a way to better utilize his generation as the future financial consultants. "I am constantly surprised by the aging profession we work in," comments Justin. "As Millennials, we need to tap into the years of knowledge and experience that these financial consultants possess as well as prepare ourselves for the future as the next generation of financial professionals.
Balance is a key in his life. His day always begins and ends with his wife and three boys. For Justin, the reason he creates wealth is to be able to focus on what is most important to him and that's his family. To read the entire interview with Justin Martin, RFC®, visit http://www.iarfc.org.