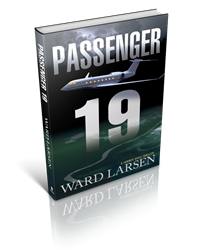 Jammer Davis is fast becoming one of the leading protagonists in the techno-thriller world
Longboat Key, FL (PRWEB) January 05, 2016
Jammer Davis has spent most of his life investigating aircraft accidents. When a small regional jet disappears over the jungles of Colombia, it is a tragedy like dozens of others he has seen…but for one terrible detail—his young daughter, who was enroute to a semester abroad in South America, is listed on the passenger manifest.
The Story:
A distraught Davis rushes to Bogotá and bulls his way into the inquiry. When the wreckage is located, it becomes clear the crash was unsurvivable. As the investigation gains momentum, the facts go astray. Two pilots had been shot before the crash, along with one passenger. The possibility of a hijacking looms large as the search begins to focus on two passengers who boarded the plane, yet their remains cannot be found. Davis uncovers an even more sinister plot behind the entire disaster—one that goes to the highest levels of the United States government. But how could it possibly involve his daughter?
Category: Thriller
The Author:
As a fighter pilot in the US Air Force, award-winning and USA TODAY best-selling novelist Ward Larsen flew over twenty combat missions in Desert Storm. He has also been a federal law enforcement officer and an aircraft accident investigator. Presently captain for a major airline, he resides with his family in Florida. He is also the author of The Perfect Assassin and Stealing Trinity.
Praise for the PASSENGER 19 and the Jammer Davis Series:
Publishers Weekly:
"The stakes are personal for Jammer Davis in Larsen's exciting third thriller featuring the airplane crash investigator (after 2011's Fly by Night). Larry Green, head of the National Transportation Safety Board's Office of Aviation Safety, calls on Davis when an ARJ-35 passenger plane goes down in southern Colombia. Three crew members and 21 passengers were aboard, including Davis's 19-year-old daughter, Jennifer. Davis flies the same day to Bogotá. At the jungle crash site, two are missing among the dead—Jennifer and another young woman, Kristin Stewart, who happens to resemble Jennifer. Other anomalies, such as bullet wounds in the back of the pilot's and copilot's heads, suggest a hijacking. When both Colombian and U.S. officials prove uncooperative, a frustrated Davis takes matters into his own hands. Aided by a drone and some hastily recruited allies, Davis goes on the offensive in some nice action scenes that are followed by some satisfying payback."
Library Journal:
"This new Jammer Davis (Fly By Wire; Fly By Night) technothriller finds the aircraft accident investigator heading to Colombia when his daughter's flight disappears over remote jungles. The found wreckage reveals that two passengers may not have died with the rest, as their remains are missing. In Davis's quest to find his daughter, he discovers revolutionaries, murder, and more sinister doings. VERDICT Danger and suspense await readers in this action-packed tale, which revolves around revenge that gets out of hand. Some of the technological details may overwhelm general thriller readers, but fans of Larsen's previous books won't be disappointed and aviation buffs will revel in the details revealed by a former airline captain." —Michelle Martinez, Sam Houston State Univ. Lib., Huntsville, TX
"Larsen clearly knows his military technology, and Jammer Davis is fast becoming one of the leading protagonists in the techno-thriller world. Another winner [Fly By Night] from Larsen that will appeal to fans of Clancy and Flynn." --Booklist
"I love thriller authors who live what they write about. Ward Larsen is an airline captain who also flew combat missions and worked on aircraft accident investigations. In Fly By Wire he brings his expert background to a gripping, entertaining, informative thriller that feels authentic on every page. Fans of Vince Flynn and Michael Crichton's Airframe will find a new favorite here." --David Morrell, New York Times best-selling author of Inspector Of The Dead
Oceanview publishes best-selling and award-winning thrillers, mystery, and suspense novels.