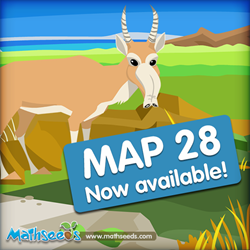 (PRWEB) January 07, 2016
The educational publishers behind Mathseeds, the popular online math program for children aged 3 – 8, have expanded their program with five additional math lessons.
The new expansion features a range of interactive online math games and activities that cover early numeracy concepts related to division, fractions, and word problems.
The new release also includes a new revision lesson, which features activities designed to reinforce the key math concepts covered earlier on in the program.
Mathseeds now includes 140 highly structured lessons designed to keep young learners engaged and highly motivated while learning. The program includes self-paced, structured activities, fun songs, colorful animations, topic specific readers, and collectible pets.
The Mathseeds program is developed by the same team of educational publishers behind the multi-award winning online reading program, Reading Eggs, and is used in a number of schools throughout the United States. The program covers key concepts learned in grades K – 2 and is designed to teach children the fundamental math skills needed to prepare them for their early years of school.
Each map is set in a unique location, including China, the Great Barrier Reef, the Galapagos, and Madagascar. Map 28, the newest addition to the program, is set in the Mongolian-Manchurian Steppe. At the end of each map, children complete a multiple-choice quiz, and if they pass, are awarded a printable certificate. Parents also have access to a parent dashboard, where they are able to track their child's progress and download reports.
Mathseeds is compatible with PC, Mac, and iPad and Android devices. The program can be accessed directly via the Mathseeds website through a browser or by downloading the free Reading Eggs Student app for the iPad. For more information on compatibility, please visit http://www.mathseeds.com/about/faqs/.
New users can access a free two-week trial by registering at http://www.mathseeds.com/.
More information is available at http://www.mathseeds.com/ or by emailing info(at)mathseeds(dot)com.